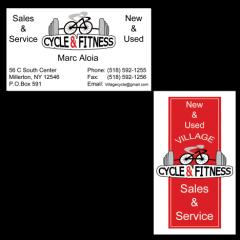 If I don't have it, I can get it, If I can't get if, You don't need.
Millerton,NY (PRWEB) June 24, 2011
Village Cycle & Fitness, a new business on South Center St., looks a lot like what people would expect from a bike shop, but with a splash of fitness equipment and guitars. There are plenty of bicycles lining the sides, along with an assortment of helmets,sprockets, grips and parts hanging from the walls and resting inside display cases. There are even a few "shop catz" lounging on chairs catching naps while extreme bike vids play on the shops flat screen TV.
Marc Aloia, the shop's owner, is no stranger to the world of bicycles,having raced BMX since the age of 15 and on a bike since 3, worked in the largest bike shop chain in NYC while studying for is BM in Music at MSM, including owing another shop before moving to Millerton NY.
Village Cycle & Fitness is a full service operation and then some, offering sale,service and rentals bicycles of all shapes and sizes. Sales,service,install,removal of fitness equipment i.e. treadmills, gyms, even stringed instrument setups and small repairs for the and then some.
Village Cycle & Fitness is located at 56C South Center St. Millerton NY, 12546(former location of Fudgy's) the store is open 10-6 seven days. To take a ride call 518.592.1255 also check us out on FB.
###