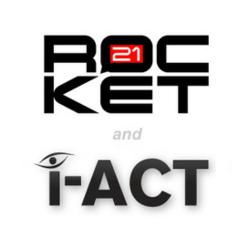 Rocket21 is committed to helping kids develop the knowledge and skills they need to make a difference.
San Francisco and Redondo Beach, CA (PRWEB) June 22, 2011
i-ACT(whose innovative technology fosters interaction between genocide victims and their supporters) has entered into a partnership with Rocket21™ (the new social network where kids explore amazing possibilities for their lives and futures). This joint effort will showcase the opportunities awaiting Rocket21 members to apply their passions to promoting the cause of social justice.
"i-ACT (iactivism.org) and StopGenocideNow.org allow youth to connect with genocide survivors and learn to apply interactive-activism to the issues they are passionate about, local or global," said Katie-Jay Scott, Director of Community Programming. "Our presence as Rocket21 PROs gives us an opportunity to share our passion for social justice while empowering kids to take action through interactive education."
"Rocket21 is committed to helping kids develop the knowledge and skills they need to make a difference," added Lisa Litsey, Rocket21 Senior Director of Outreach & Alliances. "i-ACT is a perfect fit for raising awareness of 21st century opportunities in the various fields comprising social justice advocacy."
i-ACT PROs are already on Rocket21 – covering such areas as student activist education, interactive design, and multi-media outreach. They join hundreds of experts from countless fields who have been invited to interact with kids. These include explorers, artists, ecologists, business executives, entertainers, scientists, activists, engineers, nurses, doctors, educators, and much more – people who do some of the amazing things kids dream of doing
About Rocket21
Rocket21 provides unprecedented access to world-class experts and organizations while protecting them with a combination of state-of-the-art, real-time filtering and human moderation, extensive safety and security precautions, and a specialized infrastructure designed to keep kids safe.
About i-ACT
i-ACT seeks to empower individuals within communities, institutions, and governments to take personal responsibility to act on behalf of those affected by genocide, mass atrocities, and crimes against humanity. i-ACT is a global team dedicated to putting a face on the numbers of dead, dying, and displaced while creating mutually enriching relationships between those in danger and those willing and able to act, fostering a new culture of participation.
###