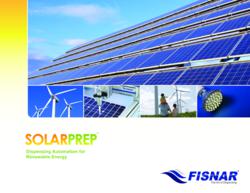 Wayne, NJ (PRWEB) June 23, 2011
Fisnar is pleased to announce a new brochure launching a Renewable Energy Equipment Program with a trademark of SOLARPREP™. The brochure introduces current renewable energy technologies and Fisnar's manufacturing solutions, from simple modular automation to full-factory systems. The brochure can also be helpful as an introduction to renewable energy technology alternatives and the procedures in their manufacture.
Technologies featured in the brochure include:
-Crystalline Photovoltaic Solar Panels (Si PV)
-Concentrated Solar Photovoltaic (CSP)
-Concentrated Solar Thermal (CST)
-Thin Film Photovoltaic (a-Si PV)
-Wind Energy (WiEn)
-Electric Vehicle (EV)
-Light Emitting Diode Illumination (LED)
About Fisnar
Fisnar is a world leader in fluid dispensing and dispensing automation. Fisnar manufactures automatic liquid dispensers for adhesive, glue, cyanoacrylates, silicone, RTV, anaerobic resin, epoxy, UV cure formulations and many more fluids. Fisnar Inc. is also a manufacturer of dispensing valves, industrial robots, peristaltic pumps, spray nozzles, syringes & consumables including, needles, barrels and tips. Fisnar offers the largest selection of products including a valve for every type of material and a wide range of economic industrial robots suitable for automating a bench assembly operation or for integration in a larger in-line process. Fisnar can be contacted directly at 973-646-5044 or by logging onto http://www.fisnar.com.
Contact Information:
James Dornan
Global Marketing Manager
Fisnar
jdornan(at)fisnar(dot)com
# # #