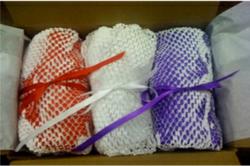 Today's consumers desire a brand experience from the moment the box arrives to actually wearing the product. Our new additions to the GreenWrap protective packaging systems and products are designed to satisfy this desire.
(PRWEB) June 23, 2011
Geami, a leading innovator in protective packaging, will showcase its newest selection of colors and branding options added to the company's GreenWrap line of eco friendly packaging at the HBA Global Expo & Conference June 28-30, 2011 in NYC. Attendees who visit the Geami exhibit at The Jacob K. Javits Convention Center will also be able to see the debut of the company's new eWrap protective packaging system for retailers and moderate volume e-commerce shippers.
Geami will have a full staff located in the Green Pavilion at booth #1822 across from the VIP Lounge to discuss the company's line of eco-friendly packaging products. Industry professionals that use protective packaging in their shipments will have the opportunity to see a live demonstration showing how the company's GreenWrap packaging systems can reduce their overall packaging costs and enhance the in-the-box presentation of products being shipped to their customers.
"Presentation is everything in the health and beauty industry," says Marcelo Passos, VP of Sales & Business Development for Geami (http://www.geami.com). "Our clients understand that their customers want a brand experience from the moment the box arrives to actually wearing the product. The new additions to our protective packaging systems and branding options are designed to fit that need."
Based on industry input, Geami has engineered three systems – iWrap, eWrap and ProWrap – to meet the unique needs of light, moderate and high volume shippers. Each features on-demand dispensing of paper-based eco friendly packaging while packers wrap. The interlocking nature of GreenWrap's honeycomb web eliminates the need for taping and prevents product migration in the box. This saves processing time, reduces damage and returns, whether the volume of packages shipped is 10 or 10,000.
Geami's newest system offering, eWrap, fills the needs of health and beauty retailers and e-commerce shippers seeking a protective packaging solution that fits in compact areas where a moderate number of packages are processed daily. The automated counter top dispensing system produces a 12.5-inch-wide web of eco friendly packaging, and refills are ordered by the box.
Large-volume shippers will continue to use the original Geami protective packaging system that has been newly branded ProWrap. This counter-top machine dispenses a 14-inch wide eco friendly packaging material that is sold by the pallet. One pallet of ProWrap yields 33,600 feet of cushioning material that is comparable to a truckload of bubble-style packaging, which greatly reduces the expense of storage and handling.
The iWrap system is designed specifically for small business that ship a lesser number of packages where portability is required. The easy-to-use roll dispenser and 13-inch-wide rolls can be stored in a cabinet or on a shelf.
About Geami:
Geami® uses patented technology to create paper-based protective packaging that is designed to protect a wide range of products during shipping and handling. Founded in 1994 and based in Raleigh-Durham, North Carolina, Geami is a privately held company serving Fortune 500 companies, Top 100 catalogers and light-volume shippers worldwide. The 100 percent recyclable GreenWrap family of eco friendly packaging materials serves as a cost-effective replacement for oil-based materials such as foams, bubble packaging and air pillows. Nearly 20,000 packages are shipped daily with their contents protected by GreenWrap. Learn more by visiting http://www.geami.com/greenwrap.html.
###