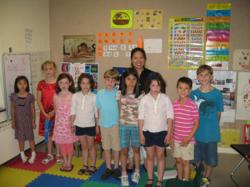 "iVu Chinese allows you to learn Chinese any time, from any place," CLSC co-founder and president, Susan Serven.
Greenwich, CT (PRWEB) June 24, 2011
"As CLSC enters our 10th year, we're pleased to announce our new online learning program, iVuChinese. iVuChinese allows students the opportunity to learn or practice Chinese nearly any time, from any place," new Canaan resident, CLSC president and Board member, Susan Serven.
The Chinese Language School of Connecticut (http://www.ChineseLanguageSchool.org), the non-profit Riverside, CT-based provider of Chinese language programs to students, schools and corporations, has announced the launch of their new online learning service, iVuChinese. iVuChinese is an online tutoring program, developed by CLSC's education professionals, which allows students to connect with a native-speaking instructor remotely, using only their laptop or PC, and a standard application download.
iVuChinese allows students to work with native-speaking teachers to design a personal, customized curriculum, and learn remotely, at their own pace,. The teacher will link to CLSC online learning tools and documents, while guiding the student's learning process, correcting their pronunciation, and assisting them with reading and writing Chinese characters if necessary.
The student will be learning and practicing directly with the teacher, almost exactly as if she were sitting next to him.
CLSC parent of 3 sons, Pelham, NY resident and Board of Directors co-Chair Jeffay Chang noted, "CLSC's faculty undergo regular, rigorous training to make sure they're able to communicate at a level that is both comfortable and consistent for our non-native speaking audience. Most other online sites do not have teachers who are both trained in on-line teaching methods, and who also have classroom experience, so can understand and appreciate the differences in working with students of varying ages.
New Canaan resident, CLSC co-founder and President Susan Serven, concurred, "One of CLSC's key benefits is that we recruit native Chinese speakers, who have been rigorously trained in U.S. teaching methods, and are often parents, themselves. When we started the organization, back in 2002, we realized that no matter where each of us was born, our children were all learning in U.S. school systems, so needed to be aware that they'd be most familiar with U.S. teaching methods. iVuChinese is an extension of CLSC's dually-accredited programs which allow all students to have access learning Chinese as a second language."
Darwei Kung, co-Chair and Harrison, NY resident, noted, "Many of our students have come from as far away as New Jersey and Chester, CT. Over the last couple of years, many people have said they wanted to have their children to learn Chinese, but wanted to send them to an accredited program with instructors fully trained in how to best engage and motivate children who usually don't speak Chinese at home. We are very pleased to offer this new program in response to the need for a quality, consistent, interactive Chinese program which uses various milestones to measure students' progress."
CLSC's principal, Daisy Chen Laone, explained, "Key to students' learning and retaining a language is usage and practice. Online learning allows students an easier way to practice Chinese. CLSC's approach is unique because we stress interactive usage over rote memorization. Lessons are age-appropriate and are organized around themes such as family, food, travel, and games so that children can quickly gain useful communication skills. We've done considerable research to determine which learning methods and interactive, online support materials work best for American students learning Chinese as a second language, and it seems to be working; many parents say their children love doing their Chinese!"
CLSC program director, Harrison resident Terri Kung, noted "Generally, younger children acquire a second language better than older children or adults, especially if their learning uses interactive methods and they are allowed plenty of time to practice, in order to build retention and understanding. Early introduction to Chinese exposes each child to a wider variety of its contexts. These contexts foster language proficiency and help develop insights into the nature of the language. With time and practice, each child will gain a deeper understanding and better command of the Chinese language and will ultimately develop a life-long interest of Chinese language and culture. "
To learn more about iVuChinese or CLSC's other Chinese language programs for children or adults, please visit them at http://www.ChineseLanguageSchool.org or contact them at info(at)ChineseLanguageSchool(dot)org.
For interesting articles on Chinese language learning and Chinese culture, please visit http://GreenTeaPop.blogspot.com and on Facebook at facebook.com/ChineseLanguageSchoolofConnecticut
###