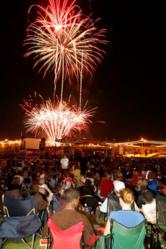 One of the biggest and best fireworks shows in Arizona takes place in Tempe.
Tempe, AZ (PRWEB) June 23, 2011
One of the biggest and best fireworks shows in Arizona takes place in Tempe, Arizona at the CBS 5 July 4th Tempe Town Lake Festival, produced by the Kiwanis Club of Tempe. Visitors and locals alike will flock to Tempe Town Lake on July 4th to take part in all the festivities. Festival attendees looking to come early and stay for the weekend can take advantage of Tempe's Summer Specials for discounts on hotels and restaurants.
Beginning at 4:00 p.m., festival goers can enjoy food, entertainment, live music and a special area just for kids. The main stage will feature live local entertainment throughout the evening such as Jinx the Tragedy, Roxster and Casey Lee Smith.
The Cox Family Fun Fest is the perfect spot for families to gather and enjoy the day. Kids of all ages will enjoy special kids' entertainment, a free inflatable village, face painting, rock climbing and more.
Festival goers will also have a delicious selection of food options to explore. Taste buds will be tempted at the Zatarain's Food Court, offering summertime favorites such as hamburgers, hot dogs, Mexican food, BBQ, roasted corn, fry bread, snow cones, ice cream, lemonade, lots of cold bottled water and more.
Those who are looking for the ultimate 4th of July experience will love the Big Earl's BBQ VIP Garden ticket option. VIP ticket holders have reserved seats in a special area to watch the fireworks show, featuring misters to keep cool and a fabulous dinner from Big Earl's BBQ and two drink tickets for beer (if 21 or older), soda or water. VIP tickets can be purchased online for $60, children ages 5-12 are $30 and children 5 and younger are free. Service fees apply.
General admission tickets are on sale now for $6 at all Fry's stores through July 4 or online at http://www.Protix.com with service fees. Children 12 and under are free. Tickets will be available at the gate for $8 or $15 for two. Additionally, tickets are available for $5 at several City of Tempe Outlets through July 3: City of Tempe main offices, Parks & Recreation Administration Office, Kiwanis Recreation Center, Escalante Community Center and the Tempe Transit Store.
Before and after the July 4th Tempe Town Lake Festival, visitors can explore a variety of shops, restaurants and taverns located within the Mill Avenue District. Enjoy happy hour special offers over the holiday weekend such as ½ priced bottles of wine every Monday at La Bocca Urban Pizzeria & Wine Bar, half off appetizers and great drink specials at Z'Tejas Southwestern Grill and half off house margaritas, bottled and draft beer, all tequilas and select food items at Canteen Modern Tequila Bar.
About Tempe Tourism Office
The Tempe Tourism Office is a non-profit organization devoted to marketing Tempe, Arizona as a desirable visitor and group destination site. The Tempe Tourism Office's mission is to provide visitors, media professionals and meeting planners with information on Tempe hotels, Tempe restaurants, Tempe entertainment and local points of interest. To learn more about Tempe, Arizona please call 480-894-8158 or 800-283-6734 or visit http://www.TempeTourism.com.
###