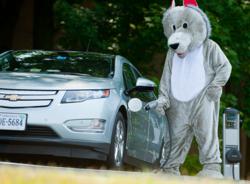 Because GM and Wolf Trap have a longstanding partnership, it makes good sense to help back the Park's ongoing green efforts
Vienna, VA (PRWEB) June 22, 2011
The Wolf Trap Foundation for the Performing Arts and General Motors want to make it easier and more convenient for motorists to go green. That's why this summer the two organizations have teamed up to install three 240-v, electric vehicle charging stations—two at The Filene Center at Wolf Trap National Park for the Performing Arts and one at The Barns at Wolf Trap. A Chevrolet Volt, or electric vehicle of any kind, can be fully charged in just four hours at these stations, compared to the 10 hours it takes at a standard outlet. These new stations enable Wolf Trap patrons to charge their green vehicles while they enjoy performances, arts education classes or events.
The installation of the charging stations represents the latest initiative in Wolf Trap's internationally acclaimed Go Green program, which was formally launched in 2006 to reduce the Foundation and Park's carbon footprint and leverage the power of the arts to inspire others to protect the environment. Since its launch Wolf Trap has cut its carbon output by more than 20 percent and its landfill waste in half.
"Because GM and Wolf Trap have a longstanding partnership, it makes good sense to help back the Park's ongoing green efforts," said Bob Ferguson, GM Vice President for Global Public Policy. "For those patrons who drive a Chevrolet Volt, they can now recharge their cars outside while they recharge with a great show this summer."
GM has served as a Wolf Trap partner for 17 years, and in 2002 signed on as the official vehicle. In the past several years, in line with Wolf Trap's Go Green program, GM began providing hybrid vehicles; adding the Volt to the line-up this year.
"The installation of the electric vehicle charging stations at the Park and at the Barns at Wolf Trap is a natural extension of our partnership with GM." said Terrence Jones, president and CEO of Wolf Trap Foundation for the Performing Arts. "As we continue to expand the Go Green program at Wolf Trap, we look to partners who share our passion for protecting the environment and can help further our efforts. With these new charging stations, Wolf Trap helps patrons go green while raising awareness about environmentally friendly energy sources and transportation."
Other environmental initiatives Wolf Trap features this season include a series of Green Spots on the plaza of The Filene Center, in which patrons can learn about the various ways the organization has gone green and how they can get involved as well. http://www.wolftrap.org/green
Additionally, Wolf Trap is a founding member of the Green Music Group (GMG), a coalition of musicians, industry leaders, and music fans working to create widespread environmental change within the music industry and around the globe. As part of its affiliation with this group, Wolf Trap presents green artists each season. In 2011 Guster will perform at the Filene Center on August 15th. Other green artists Wolf Trap has presented in years past include Willie Nelson, Bonnie Raitt, Sheryl Crow, and The Roots among many others.
To learn more about Wolf Trap's Go Green program please visit: http://www.wolftrap.org/green
About The Wolf Trap Foundation for the Performing Arts
The Wolf Trap Foundation for the Performing Arts, a 501(c)(3) nonprofit, founded by Catherine Filene Shouse (1896-1994), produces and presents a full range of performance and education programs in the Greater Washington area, as well as nationally and internationally. Wolf Trap features three performance venues, the outdoor Filene Center and Children's Theatre-in-the-Woods, both located at Wolf Trap National Park for the Performing Arts, and the Barns at Wolf Trap, located down the road from the park and adjacent to the Center for Education at Wolf Trap. In partnership with the National Park Service, The 7,028-seat Filene Center annually showcases an extensive list of diverse artists, ranging from pop, country, folk, and blues to classical music, dance, and theater, as well as multimedia presentations, from May through September. The Barns operates year round, and during the summer months is home to the Grammy-nominated Wolf Trap Opera Company, one of America's outstanding resident ensemble programs for young opera singers. Wolf Trap's education programs include the nationally acclaimed Wolf Trap Institute for Early Learning Through the Arts, Children's Theatre-in-the-Woods, a diverse array of arts education classes, scholarships, and a nationally recognized internship program that was included in Bloomberg BusinessWeek's 2009 List of "Best Places to Intern." As part of its ongoing commitment to protect and preserve the environment, Wolf Trap offers metro access and is a founding member of the Green Music Group. Terrence D. Jones is president and CEO of the Wolf Trap Foundation for the Performing Arts.
About General Motors - General Motors (NYSE: GM, TSX: GMM), one of the world's largest automakers, traces its roots back to 1908. With its global headquarters in Detroit, GM employs 202,000 people in every major region of the world and does business in more than 120 countries. GM and its strategic partners produce cars and trucks in 30 countries, and sell and service these vehicles through the following brands: Baojun, Buick, Cadillac, Chevrolet, GMC, Daewoo, Holden, Isuzu, Jiefang, Opel, Vauxhall, and Wuling. GM's largest national market is China, followed by the United States, Brazil, the United Kingdom, Germany, Canada, and Italy. GM's OnStar subsidiary is the industry leader in vehicle safety, security and information services. More information on the new General Motors can be found at http://www.gm.com.
Wolf Trap Foundation Contact: Melissa Chotiner, (703) 255-4096 or melissac(at)wolftrap(dot)org
General Motors Contact: Carolyn Markey, (202) 997-3537 or Carolyn(dot)markey(at)gm(dot)com
###