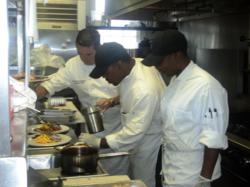 "The idea is for the military to look at cooking in a completely different way."
-- Juan Carlos Rodriguez, executive chef at The Ford Plantation
Savannah, GA (PRWEB) June 23, 2011
The Ford Plantation, a private club community near Savannah, Ga., recently launched an innovative partnership with Fort Stewart military base in Hinesville, Ga. to promote the use of fresh food in menu items prepared on base and to help reduce the use of canned food in the U.S. Army.
Five days a week, four Fort Stewart soldier chefs work side-by-side with The Ford Plantation's Executive Chef Juan Carlos Rodriguez and his culinary team, learning how to prepare bread, desserts and entrees from scratch. They also harvest fresh vegetables from the organic garden at The Ford Plantation and gather fresh eggs to use in various recipes.
"The idea is for the military to look at cooking in a completely different way," said Rodriguez. "After the soldiers go back to the base, they can train other chefs to use fresh, healthy ingredients."
Rodriguez, a native of San Juan, Puerto Rico, is committed to sharing farm-to-table culinary strategies with military chefs, encouraging them to go beyond the military's conventional 21-day menu rotation and to incorporate fresh ingredients whenever possible. The Ford Plantation has the full support of Fort Stewart's top brass on this particular initiative, which is designed to tie in with the First Lady's Healthy Food campaign.
"It's about changing the way the military looks at food and sharing a different way of cooking," said Rodriguez. "It's the right thing to do. It's wonderful that the Army can think outside of the box and use fresh ingredients. They have the manpower to do things in a better way in the kitchen."
The U.S. Army hopes to expand this pilot program around the country, using the model of four-week culinary immersion sessions developed at The Ford Plantation.
"We have been very pleased with this innovative partnership and appreciate the opportunity for our chefs to learn new ways of preparing food for their fellow soldiers," said Chief William Liggon, Division Food Advisor for Fort Stewart. "Our chefs are learning new strategies, new techniques and new recipes at The Ford Plantation that have been extremely well-received by the soldiers at Fort Stewart."
A luxury residential and sporting community in Richmond Hill, Ga., The Ford Plantation offers unparalleled Low Country living on a 1,800-acre site with a canopy of historic live oaks overlooking the scenic Ogeechee River. Some of the exceptional amenities residents enjoy include an acclaimed Pete Dye golf course, a deepwater private marina, coastal sport fishing, stocked natural lakes, sporting clays, an equestrian center, tennis, a fitness center, pools, canoeing, kayaking, walking and hiking trails, a full service day spa, and full-service food and beverage operations.
Travel + Leisure Golf has repeatedly recognized The Ford Plantation as one of "America's Top 100 Golf Communities." Town & Country magazine also named The Ford Plantation one of the "top seven safe havens in the country," spotlighting enclaves that offer an outstanding quality of life and exceptional amenities.
ABOUT THE FORD PLANTATION:
One of the nation's leading gated communities and private sporting clubs, The Ford Plantation features 400 home sites nestled on 1,800 breathtaking acres near Savannah, Ga. Located on the site of a former antebellum rice plantation, this majestic waterfront location once captivated the imagination of automobile magnate Henry Ford, who built a historic winter retreat on this lush property in the 1930s. Today, this private sporting community features a challenging Pete Dye golf course, an on-site day spa, a deepwater marina, world-class equestrian center, organic garden and state-of-the-art fitness center, as well as more than 10 miles of scenic horse, biking and hiking trails. For additional information about The Ford Plantation, please call 912.756.3291 or visit http://www.FordPlantation.com.
# # #