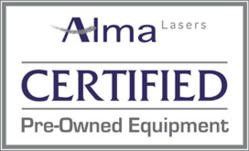 Our aim with this division is to provide a tremendous value to a segment that is traditionally underserved.
Buffalo Grove, IL (PRWEB) June 23, 2011
Alma Lasers, a global leader in laser, light, radiofrequency and ultrasound-based aesthetic treatment devices, today announced the attainment of reaching the AlmaCPO goals and objectives. One year ago, Alma Lasers launched the Certified Pre-Owned division and the Board of Directors is excited that the division has attained its goal so quickly.
Avi Farbstein, EVP/GM of North America, stated, "Our aim with this division is to provide a tremendous value to a segment that is traditionally underserved." Used lasers can be a cost effective way of adding a new device to an existing practice or breaking into the cosmetic laser industry. However, buying a used laser from a third party supplier could result in a disastrous business decision if the equipment is unreliable and/or unsafe to operate. AlmaCPO strives to provide the used laser buyer with a solution that overcomes these challenges.
Every used laser from AlmaCPO undergoes a complete certification process by professional technicians. The inspection is stringent and requires that worn out components are replaced, software is upgraded and every aspect of the machine's operation is evaluated. All AlmaCPO technicians are trained and authorized by the manufacturer with access to proprietary software, parts and support. The certification process creates a business advantage for the used laser buyer in terms of safety and reliable operation.
AlmaCPO distributes the Alma Lasers brand, giving the used laser community access to many of the innovations the company is known for. The Soprano XL, for example, is virtually pain free, operates at 10 pulses per second and is FDA cleared for all skin types, including tanned skin. This allows Soprano XL operators to carry out comfortable hair removal treatments in less time and on more skin types than other hair removal lasers. Similarly, the Harmony Elite is a scalable cosmetic laser platform with 65+ aesthetic / medical applications. The Harmony Elite grows with an aesthetic practice because the practitioner can add new modules as time goes on. The product portfolio also included body contouring and CO2 lasers.
However, the robust product line is only part of the total package. Used laser purchasers have access to the same clinical training, technical support and marketing tools that buyers of new Alma Lasers equipment enjoy. Furthermore, service technicians are available twenty-four-hours-a-day through a live answer support system.
About AlmaCPO and Alma Lasers, Ltd.
Alma Lasers is a global developer, manufacturer and provider of laser, light-based, radiofrequency and ultrasound devices for aesthetic and medical applications. Alma Lasers has been at the forefront of delivering innovative multi-technology/multi-application systems designed to meet the needs of today's practitioners. Alma's modular, cost-effective and high-performance systems enable practitioners to confidently offer safe, effective and profitable aesthetic treatments to their patients. Medical practitioners use Alma Laser's products for noninvasive and minimally invasive aesthetic procedures such as hair removal, acne treatment, skin rejuvenation, fractional ablative skin resurfacing, pigmented lesions, vascular lesions and leg vein treatments. For more information, visit http://www.almalasers.com.
###