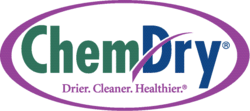 executive decisions have been made with the customers in mind
Seattle, WA (PRWEB) June 23, 2011
Creating a strong standpoint of doing much more than just cleaning carpets, upholstery, and tile has become a great driver for this Seattle franchise. As an independently owned branch of Chem-Dry they provide a service unmatched by most other carpet cleaning companies as well. Since this business first started executive decisions have been made with the customers in mind and with consideration of the long term effects of using their products day to day. Dander and Daughters is bringing natural cleaning to the home, working faster and better than other products as well. Providing home and business locations with Chem Dry's The Natural®, they seek customers whom prefer alternatives to chemicals that may be harmful to themselves and the environment. Most recently Dander and Daughters can really boast the positive contribution they employ by taking a firm stand on where they position themselves environmentally.
As an industry leader in Seattle carpet cleaning services, this franchise has placed themselves in an excellent position for future consumers, especially since many other companies have only just begun an approach to environmentally sound cleaning products. We can consider this company to be the premier carpet cleaner in Seattle because not only do they have environmental solutions to your cleaning needs but the product they have created dries faster, cleaner and healthier.
Using healthier, more natural products seems to becoming the norm these days with Dander and Daughters this is just everyday, promoting this throughout the Puget Sound is going to be their number one project for the next few months. As a top competitor of other Seattle carpet cleaners, this company promotes better cleaning and top notch service. Being a thought leader in any industry comes at a cost, but in the case of this company it has paid off all in part to great service and overall quality of work.
###