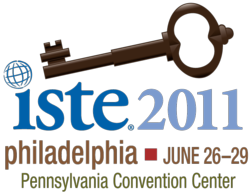 Philadelphia, PA (PRWEB) June 27, 2011
College and career readiness is center stage at Pearson's exhibits for the International Society for Technology in Education (ISTE) conference that begins today in Philadelphia. For three days, conference attendees from around the world can test-drive Pearson's full array of data-driven platform solutions; powerful and engaging mobile apps and games; professional development; next-generation assessment; and online education—including curriculum programs aligned to the Common Core State Standards.
Pearson's programs and services showcased at ISTE include:

The new Dash on iPad app for Teachers expands instructor capabilities with easy touch-screen access to point-of-use teaching strategies, training resources, engaging videos, lesson plans, test questions, curriculum, interactive tutorials, and personalized data—all integrated to maximize teaching effectiveness.
Online Learning Exchange™ (OLE) – Pearson's new media-rich, reliable web-based destination for K-12 teachers to create their own customized lessons. OLE can supplement any curriculum and brings together tools for teachers to aggregate their own content, quality third-party resources, and numerous digital assets from Pearson's instructional materials — all tagged by subject, grade, and educational standard.
Schoolnet® – Instructional Improvement System (IIS) helps schools increase student achievement and holistically measure, support, and enhance educator effectiveness. Schoolnet's systems are built upon an open, scalable platform that provides users with the data, reports, tools, and content to assess performance, analyze results, individualize instruction, and engage parents.
SuccessMaker® – Pearson's digital solution in mathematics and reading for K-8 students is available online for the first time, and aligned to the Common Core State Standards.
SuccessMaker® Speed Games – an iPad app for 24/7 practice of basic mathematics skills.
Online learning etexts for the iPad and digital paths for math, literacy and all subject areas.
Common Core editions of Pearson's K-12 programs, featuring interactive white board demonstrations of digits, the middle grades curriculum that offers anytime, anywhere learning, and Investigations, a National Science Foundation-focused elementary program.
MyLabs online homework and tutorial programs – proven higher education offerings now customized for high schools in math, reading and literature.
Pearson Virtual Learning powered by Florida Virtual School – consultation, courseware, and custom e-learning solutions.
WriteToLearn® – a web-based tool for building writing and reading comprehension and skills in essay-writing and summarization.
Writing Coach – a digitally-driven grammar and writing program for grades 6-12, providing personalized coaching for every student.
NovaNET® Courseware – Anywhere access to high quality, core high school curriculum.
ELLIS – digital learning for learners with limited English proficiency.
PowerSchool® – the award-winning student information system (SIS) with the largest market share of any SIS available today.
PowerTeacher™ Classroom Management System – the latest technology for true standards-based grading.
AIMSweb® – an assessment, data management and reporting framework for Response to Intervention (RTI).
Teacher Compass Suite – streamlined teacher observations and personalized professional development plans for each teacher.
Pearson professional development strategies for engaging students with technology-rich lessons, instructional techniques for teaching struggling learners literacy skills, and best practices for implementing formative effective assessment.
A+RISE – A series of daily, just-in-time instructional strategies and videos to improve the academic and content achieve¬ment of English language learners.
SuccessNet Plus version 2.0 – K-12 learning management that combines Pearson's curriculum with powerful online customization, planning and tracking tools to personalize instruction for students.
Follow us on Twitter at @pearson for more up-to-the-minute information.
About Pearson
Pearson has as its mission to work side-by-side with states, districts, teachers, students and parents to ensure that every child is prepared for college and career (NYSE: PSO). http://www.pearsoned.com
Contact: Kate Miller, kate(dot)miller(at)pearson(dot)com; 800-745-8489
# # #