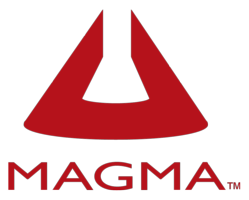 San Diego, CA (PRWEB) June 23, 2011
Magma, an innovative and visionary developer of PCI Express expansion and connectivity products, announced today that Tim Miller has joined the company in the newly created role of Chief Operating Officer. In this new role, Tim is responsible for managing Magma's day to day operations, and will join the management team in leading the company's transition from a hardware product to a solutions product focus, developing innovative hardware and software for PCI Express and PCI expansion for specialized applications. Tim will report to CEO Randy Jones, who will continue to lead the company and focus on strategy and capital structure.
"Tim has broad experience in leading the development of technology solutions and bringing them to market in the computing and bus expansion markets," said Randy Jones, CEO and founder of Magma. "As Magma continues to grow, we are going to expand our business by developing application focused solutions that address customer's problems with more complete systems level solutions. I am very happy to have Tim onboard to lead the team as we develop and deploy this next generation of Magma products."
"I am excited to join the Magma team as the company is entering this phase of growth," said Tim Miller, "and I look forward to exploiting new opportunities for extending PCI Express technology outside the system box in new and emerging markets."
Tim was previously with Dolphin Interconnect Solutions, where he was CEO. Prior to Dolphin, Tim was a founder and CEO of StarGen (acquired by Dolphin), a developer of PCI Express and PCI chips and bus expansion cards. Tim also worked at Digital Equipment Corporation where he held a number of marketing and general management positions in the systems and semiconductor businesses. He was an officer in the U.S Navy and received an MSE in Computer Science from the University of Pennsylvania, and an MBA from the Wharton School.
About Magma
Magma develops and manufactures PCI & PCI Express Expansion Systems for servers, desktops and portable platforms. Magma's patented expansion products extend PCI and PCI Express signals outside the computer over cable to a chassis containing multiple card slots. Magma's product line includes enclosed and non-enclosed solutions ranging from low-end single slot expansion products to fault-tolerant, highly reliable, accessible and serviceable (RAS) chassis specifically designed for mission critical environments. Magma expansion solutions enable you to protect your investment in expensive, specialized add-in cards while providing an easy migration path from legacy protocols, like PCI, to high-speed PCI Express protocols.
Magma products are platform independent, and are used in a variety of industries including audio and video production, test and measurement, medical imaging, surveillance, aerospace and defense, telecommunications, data acquisition, and high performance computing. Magma's team of experienced engineers has been developing expansion and connectivity solutions since 1987. Magma products are assembled in San Diego, CA and go through rigorous certification and quality processes. Magma is a wholly owned dba of Mission Technology Group, Inc. For more information, visit http://www.magma.com.
Contact
Victoria Kohlhorst
Senior Marketing Manager
858-880-2218
vkohlhorst(at)magma(dot)com
# # #