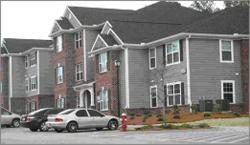 Clearwater, FL (PRWEB) June 23, 2011
The Churchill Companies, a financier of commercial real estate and renewable energy installations announces the closing of three construction loans to build 152 units of affordable housing in three communities to be developed in Myrtle Beach, Rock Hill and Columbia, South Carolina.
Bay Point II Apartments located in Myrtle Beach will have four buildings offering 56 two and three bedroom low-income housing tax credit (LIHTC) apartments. Rock Point Apartments in Rock Hill will offer 48 LIHTC units in four residential buildings. Madison Station II in Columbia will contain 48 two and three bedroom LIHTC homes in three buildings. These developments bring much-needed affordable housing to the several communities in South Carolina.
Churchill Mortgage Investment, LLC, a subsidiary of The Churchill Companies, arranged the financing utilizing private debt with several investors participating in the construction loans.
Keith Gloeckl, President and CEO of The Churchill Companies commented, "We continue to offer outstanding service while providing both debt financing and tax credit syndication to our valued long-standing clients while we work hard to forge new relationships that promote the creation of affordable housing."
About The Churchill Companies
The Churchill Companies are a full-service mortgage-banking firm with its office in Clearwater, Florida. The company specializes in providing financing for commercial real estate and renewable energy installations.
Churchill Stateside Group serves the affordable housing industry by sponsoring tax credit investment funds for institutional investors and offering financing to developers of multifamily housing and renewable energy installations.
Churchill Financial LLC is a member of Q10|Capital LLC and benefits from a national infrastructure enabling immediate access to real time financing data from across the country. In the past three years, Q10|Capital companies have produced over $16.5 billion in commercial finance transactions and currently service over $17 billion in commercial mortgage loans.
For more information, please contact Devin Sanderson by calling (727) 461-2200, e-mailing dsanderson(at)Q10Churchill(dot)com or by visiting http://www.churchillfin.com or http://www.churchillstateside.com.
# # #