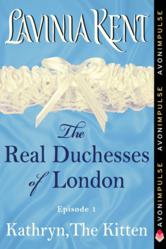 A historical twist on a modern show with just enough fun and heat to keep it moving along nicely.
New York, NY (PRWEB) June 28, 2011
Regency England just got real(ity) in a fresh new series of e-book original novellas by celebrated author Lavinia Kent. It all starts with a cartoonist's sketch, in a widely-read London scandal sheet, of five women. They seemingly lead perfect lives, but under the façade, they are catty, they are conniving, they are out to conquer the social stratosphere… no matter what it takes. But, it all gets real, really fast, for the Real Duchesses of London!
Who are the Real Duchesses? Meet Kathryn, Linnette, Georgianna, Elizabeth and Annabelle:
Kathryn, The Duchess of Harrington: "I am the perfect duchess. I am beautiful, rich, well-read, well-spoken and have a civilized relationship with the duke. What more could a woman want?"
Elizabeth, The Countess of Westhampton: "I may not be a duchess, but I am more of a lady than any of them. You'll never see me in the scandal sheets. Mind you, I am not saying I haven't ever been scandalous -- just that you'll never know."
Georgianna, Lady Richard Tennant: "My son will be a duke. It doesn't matter if I get to be a duchess as long as I know my son will inherit from his uncle, will hold the title. My husband may have broken many of his promises to me, but that one is absolute."
Linnette, The Dowager Duchess of Doveshire: "I have no intention of giving up what is mine. I've run the house and the estates for years. Why would I ever give them up now? I don't care who the new duke is."
Annabelle, The Marchioness of Tattingstong: "They say that because I am American I have no taste, no grace, no style, no refinement. I have every intention of showing them just how wrong they are -- and when the time comes I will be the perfect duchess."
Curious? The duchesses have made their broadcast debut on YouTube, and you can meet them online at http://www.youtube.com/watch?v=UpyWWpQ5Rt8… then we urge you to download these e-book episodes from your favorite online book retailer!
KATHRYN THE KITTEN
Avon Impulse - e-book originals - on sale 6/28/11 - ISBN 9780062107923 - $1.99
LINETTE, THE LIONESS
Avon Impulse - e-book originals - on sale 7/12/11 - ISBN 9780062107930 - $1.99
ANNABELLE, THE AMERICAN
Avon Impulse - e-book originals - on sale 8/16/11 - ISBN 9780062107947 - $1.99
ELIZABETH, THE ENCHANTRESS
Avon Impulse - e-book originals - on sale 9/13 - ISBN 9780062107954 - $1.99
ALSO FORTHCOMING FROM LAVINIA KENT:
WHAT A DUKE WANTS (Avon Books, on-sale 9/27/11, $7.99, ISBN 9780061986314; e-ISBN 9780061986314):
These e-book originals lead right into the publication of a sexy new historical by Lavinia Kent! In What a Duke Wants, we meet a woman who has been running and hiding for years, taking jobs far below her station in life, in an effort to escape a crime she was forced to commit. But her luck seems to change when she meets one Mr. Smythe, and it seems like she can finally live a simple life, centered around home and family. But Mr. Smythe is a duke… and too many secrets surround the two for this love story to have an easy ending. After the climax of this deeply moving historical, supremely satisfied readers will quickly ask for more from the talented Lavinia Kent!
WHAT A DUKE WANTS
Avon Books - on-sale 9/27/11 - ISBN 9780061986314 - e-ISBN 9780061986314 - $7.99
About the Author:
Lavinia Kent never knew that most people don't make up stories in their heads to pass the time. She still has a hard time understanding how those who don't survive the doctor's waiting room or a grocery store line without another world to escape into. Growing up in New York state and Wisconsin, Lavinia graduated from Wellesley College and, for reasons that are still not quite clear, also holds an MBA from Washington, D.C.'s Georgetown University. Lavinia has remained in Washington ever since. She lives under the gracious (and usually benign) rule of Erzsebet, the cat, along with her husband, three children, one cockatiel, two rats, and Erzsebet's younger, subordinate tomcat, otherwise known as The Golden Snitch. As the mother of three, Lavinia finds "leisure time" to be ever-elusive, but when she is not reading romance novels, she watches far too much HBO and reality television. It must also be noted that she has an encyclopedic knowledge of all things Buffy.
More information available online at http://www.avonromance.com.
# # #