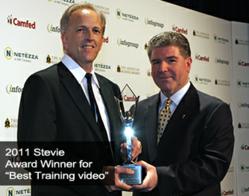 This award validates the creativity of Xcelus' staff and their dedication to provide the best training possible for our clients.
Provo, UT (PRWEB) June 24, 2011
Xcelus, LLC won the Stevie award for "Best Training Video " Monday evening in The 2011 American Business Awards for its online code of conduct training video.
The awards were presented during ceremonies at the Marriott Marquis Hotel in New York City. The ceremonies were hosted by Cheryl Casone of Fox Business Network and broadcast nationwide on radio by the Business TalkRadio Network.
In winning the Stevie, Xcelus beat out other finalist including Microsoft, Prescription Solutions/UnitedHealth Group, Content Master and Verite. "It is an honor for our company to have been recognized at the American Business Awards," said Todd R. Corbett, President and Founder of Xcelus, LLC. "This award validates the creativity of Xcelus' staff and their dedication to provide the best training possible for our clients."
The award winning training video focused on social media training for employees as well as following the company's protocol. Xcelus' services for this project included instructional design, script development, storyboard development, video motion graphics, video shooting and editing, video compression, online video hosting, and employee tracking and reporting.
Xcelus has earned numerous awards for their customized online training videos, including multiple silver and bronze Telly Awards, which recognize "the finest video and film productions, and work created for the Web" and four Horizon Interactive Awards for excellence in interactive media production. The company has produced video for notable clients including Hitachi, Channel Compass, FranklinCovey and SirsiDynix.
Stevie Awards were presented in over 40 categories including Best Overall Company of the Year, Executive of the Year, and Corporate Social Responsibility Program of the Year. More than 2,700 entries from organizations of all sizes and in virtually every industry were submitted for consideration.
More than 200 executives across the country participated in the judging process to determine the Finalists and Stevie Award winners. To view the full list of Stevie Award winners, please visit: http://www.stevieawards.com/aba.
About Xcelus, LLC
Xcelus, an award-winning visual communications and digital media company, develops innovative and unique online videos, allowing companies to integrate the power and persuasion of video into their training, sales, marketing, and communication strategies. Xcelus' video solutions include training, sales, marketing, customer support, lead generation, recruiting, and employee communications. Xcelus is a private company founded in 2005 and is based in Provo, Utah. http://www.xcelus.com
About The Stevie Awards
Stevie Awards are conferred in four programs: The American Business Awards, The International Business Awards, the Stevie Awards for Women in Business, and the Stevie Awards for Sales & Customer Service. Honoring companies of all types and sizes and the people behind them, the Stevies recognize outstanding performances in the workplace worldwide. Learn more about The Stevie Awards at http://www.stevieawards.com.
###