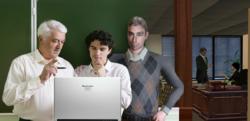 "Universities have delivered online content in amazing ways but nothing in education this comprehensive and interactive has ever been created using 3D technologies."
Oklahoma City, Oklahoma (PRWEB) June 23, 2011
Education will never be the same. Vertical Learning Curve (VLC), a leader in the field of 3D interactive learning, announced the completion of the world's first 3D MBA courseware. In 2006, Vertical Learning Curve set out to bring to life an entire graduate business program of case studies set in a 3D virtual corporate environment. MBA students immerse themselves in a simulated company and become virtual employees with real workplace problems to solve. They sharpen their knowledge, skills and credentials as they learn from virtual characters in the 3D marketplace. Participants engage within an interactive storyline and "learn by doing."
"Students learn best by doing. With video everywhere in our culture, we have found that the current demographic of students respond well to total immersion into 3D learning," said Dr. John Cragin, Professor and VLC's Board Chairman. "Students experience advanced 3D simulations as they immerse themselves within a virtual company that is a replica of a real company, interact with avatar colleagues and learn by participating in dynamic real 'business world' scenarios. VLC's goal is to not only make learning fun and relevant, but to improve knowledge retention. As participants progress through the V-Learning™ course they create a 'real history' or scenario memory. This enables them to later draw from the virtual experience and make better decisions."
Professors who have used the courseware are enthusiastic. OBU Graduate School Director, Dr. Scott Harris says, "The academic content quality is solid. Our students are stretched in their thinking and prepared to apply what companies expect from an MBA." Orneita Burton, Assistant Professor at Abilene Christian University says, "Our interest is in providing an active learning experience for students where they can think critically about the interaction between people, technology, and business and where they collaborate with external players in a simulated, yet life-like business setting."
Two US universities created Masters in Business programs entirely using the 3D interactive courseware: Indiana Wesleyan University and Oklahoma Baptist University. Other schools are using the courseware in various graduate and undergraduate business courses.
Students participate in an immersive 3D learning environment instead of using traditional textbooks. Designed to support the work of a live professor, the courseware includes a wide range of assignments including videos, podcasts, and professional career resources. The interactive curriculum provides students with an 'on the job' experiential learning simulation. The courseware transforms traditional textbook learning by using engaging animated stories whereby students log into the courseware via the Internet, play a vital role within a virtual company and work to complete their corporate (virtual) internship.
"Universities have delivered online content in amazing ways but nothing in education this comprehensive and interactive has ever been created using 3D technologies. Now that we're finished with the MBA, we can begin dreaming and collaborating about other ways to apply the technologies," said Trish Zylstra, VLC's Director of Marketing.
About Vertical Learning Curve
Vertical Learning Curve was formed in 2006 in response to the call by the American Federation of Scientists (and others) to take advantage of web, database, and virtual reality technologies to do something about the increasing costs and decreasing effectiveness of traditional classroom, lecture approaches to education and training. Today the technology company focuses its accumulated expertise and credentials in business and training/education on (1) 3D interactive, accredited Graduate and Undergraduate Programs and (2) Continuing Education and (3) customized training for US and large international companies, NGOs, and government.
# # #