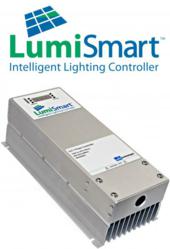 We are pleased to be partnering with an industry powerhouse like Commercial Lighting Products.
Toronto, ON (PRWEB) June 23, 2011
Cavet Technologies Inc. today announced it has formed a strategic agreement with Commercial Lighting Products Ltd. to sell Cavet's award-winning LumiSmart ILC in Western Canada. Developed for the commercial and industrial markets, LumiSmart ILC is a purpose-built product that dramatically reduces power consumed by existing and installed fluorescent lighting systems with no discernable impact on occupant comfort.
"We are excited to collaborate with Cavet Technologies to bring the energy and cost savings of LumiSmart to Western Canada," said Dustin Paul, Sales Manager for Commercial Lighting Products. "Commercial Lighting Products has recognized the challenges that are associated with an existing building stock in a green-era. Both tenant and landlord face considerable challenges when streamlining aging assets to compete within a progressive marketplace. Lighting is 30 per cent of a company's annual energy expenditure and therefore demands attention, particularly when there are viable solutions like Cavet's LumiSmart."
Providing 30 per cent or more power reduction, the LumiSmart ILC is ideally suited for a variety of lighting environments, including office buildings, industrial spaces, health care facilities, retail locations, and parking garages. Reducing energy consumption directly at the source, the LumiSmart ILC eases pressure on the electrical grid, as well as materially and immediately cuts carbon emissions for commercial and industrial customers.
"We are pleased to be partnering with an industry powerhouse like Commercial Lighting Products," said Simon Jerome Vice President of Global Sales for Cavet Technologies. "Their deep industry experience is a valuable asset as we strengthen our reach across Canada."
About Commercial Lighting Products Ltd.
Commercial Lighting Products is a Canadian owned and operated lighting distributor and master distributor for General Electric, Philips, Universal Lighting Technologies and Advance Transformer. We stock more than 3,000 items from quality manufacturers, serving five Western Canadian centres with offices in Delta, Victoria, Calgary, Edmonton, and Winnipeg. Over our 30 year history we have tailored our consultative approach to serve property managers, asset managers, governments, municipalities, businesses and electrical contractors. We specialize in energy efficient, eco-friendly lighting solutions. For more information please go to our website: http://www.comlight.com or contact Dustin Paul at 403 259 2222 or dustin(dot)paul(at)comlight(dot)com.
About Cavet Technologies Inc.
Cavet Technologies Inc. is a leading edge Cleantech company that brings innovative intelligent lighting products to market which maximize energy savings and provide industry leading returns on investment. Available through its broad network of distribution partners worldwide, Cavet's flagship product is the award-winning LumiSmart ILC™, Intelligent Lighting Controller. LumiSmart ILC helps commercial and industrial customers dramatically reduce lighting costs by a minimum of 30 percent without replacing any existing lights, ballasts, or lighting infrastructure. Cavet Technologies is the proud winner of the Canadian Advanced Technology Alliance (CATA) Technology Commercialization Award, Corporate Knights Next 10, CleanTech North's Company of the Year, Canadian Manufacturers and Exporters (CME) and the National Research Council-Industrial Research Assistance Program (NRC-IRAP) Ontario Regional Awards for New Technology, PROFIT Magazine's Innovation@Work and Deloitte's Green 15 Award, part of the 2010 Deloitte Technology Fast 50™. For more information about Cavet Technologies, please visit http://www.cavettech.com.
###