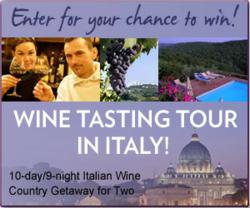 Santa Barbara, California (PRWEB) June 25, 2011
Gold Medal Wine Club, Wine Tours Italia and an Arizona-based travel agent, Donna Touchette, have joined forces to promote wine tours in Italy. Two lucky Gold Medal Wine Club members will enjoy a free tour for two in Tuscany and Umbria as part of the promotion. Each year, Gold Medal has offered a contest for a chance to win a free international wine-tasting trip. This year, in addition to the winners, the tours will be open to all Gold Medal Wine club members, and their family and friends.
The deal was put together by internet-based travel agent, and self-proclaimed wine lover, Donna Touchette. She contacted California's Gold Medal Wine Club because of their reputation as a high-quality wine club with numerous wine enthusiasts as International Series Wine Club members. Wine Tours Italia, a father-daughter-run online business based out of Italy and Vancouver was a natural fit having organized wine tours in all the major wine-producing areas of Italy, including Tuscany, Umbria, the Veneto, and Piemonte for many years.
"What's fantastic about this year's promotion", says Donna Touchette from her Phoenix home office, is that it delivers a WIN-WIN-WIN. Gold Medal Wine Club is signing up new members, we're filling the tour with eager wine lovers, and those who join the tour – not just the contest winner but everyone else on the tour - is going to have the experience of a lifetime."
For small businesses with a small marketing budget creative solutions are a must. For Gold Medal Wine Club the goal of the annual tour contest has always been to promote new registrations and to keep current members actively engaged. The added value of offering the tour to all wine club members helps to strengthen community among subscribers who already regularly chat about wine on the company's wine club blog and Facebook page.
Touchette and Wine Tours Italia will offer a free trip for two on its October wine tour in Tuscany and Umbria to a Gold Medal Wine Club member at a 10% savings. In exchange, Gold Medal Wine Club promotes the tour to its membership ensuring that the tour will be fully subscribed.
Not surprisingly, the three companies are already thinking of their next cross promotions for 2012. For more information about the Italian wine tour, please visit http://www.goldmedalwineclub.com/member_benefits/enter_to_win_italy.php
###