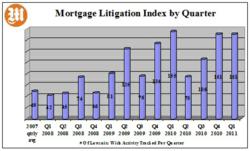 Calabasas, CA (PRWEB) June 22, 2011
Lead attorney at for the Law Offices of Kramer and Kaslow, Philip Kramer, recently released comments on the latest Mortgage Litigation Index numbers compiled by MortgageDaily.com. According to the latest Mortgage Litigation Index, mortgage servicing litigation increased 88 percent during the first quarter, according to MortgageDaily.com. The growing number of lawsuits suggests financial institutions will be increasingly under pressure to resolve outstanding mortgage and foreclosure issues.
Philip A. Kramer, a noted attorney who represents hundreds of homeowners who have filed consolidated plaintiff litigation lawsuits against six of the nation's largest lenders, commented on what he feels that the statistics indicate.
"What you're seeing here are the cumulative results of years of egregious conduct that have not been properly addressed by regulatory authorities." Kramer finds particularly noteworthy the dramatic increase in investor and criminal litigation. "If you look at these charts," says attorney Kramer, "You see that investors are increasingly turning to the courts for redress. The courts have become the major avenue of redress because other institutions have failed. At least until now. The charts also show an increased number of criminal suits which suggests that government – local, state and federal -- is growing increasingly active in redressing some of these issues."
Philip Kramer observes, "It looks to me like we have reached a tipping point. Either banks are going to settle voluntarily, or the courts are going to impose solutions. One way or another, it looks like a resolution is on the way."
More of Philip Kramer's thoughts can be found at the Kramer and Kaslow blog.
ABOUT PHILIP KRAMER
PHILIP A. KRAMER is the senior partner of the Law Office of Kramer & Kaslow, in Calabasas, California. Kramer & Kaslow is Martindale Hubbell "AV" rated. Mr. Kramer is a perennial recipient of the prestigious "Southern California Super Lawyer" award.
Mr. Kramer received his undergraduate degree from Ohio State University and his Juris Doctorate from the Catholic University of America, in Washington, DC. His practice emphasizes commercial litigation and trial advocacy, with a concentration on business litigation, and real property matters. He has prosecuted and defended cases for over twenty five years.
Mr. Kramer is a licensed real estate broker and has spent considerable time providing legal services in connection with real estate issues relating to loan modification and loss mitigation, land use and zoning, environmental issues, easements, construction and development, finance, and landlord tenant matters.
Mr. Kramer is admitted to practice before all courts in the State of California, the United States Supreme Court and the United States Court of Military Appeals. Mr. Kramer has tried in excess of 200 cases. He has appeared on nationally televised programs regarding pre-trial procedure and trial strategy and has appeared as a guest lecturer on topics ranging from constitutional law to trial practice, and Mr. Kramer frequently lectures on a broad spectrum of various legal and business issues.
Mr. Kramer also serves as a Judge Pro Tem for the Los Angeles Superior Court and as a Mediator.
Mr. Kramer is also a past president of the Los Angeles West Inns of Court, a national organization dedicated to bringing professionalism and civility back into the legal profession. He also serves on numerous Boards of Directors and serves as an officer in many companies. For more information call (818) 224-3900 or visit http://kramer-kaslow.com
###