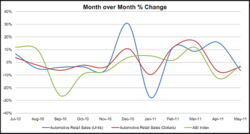 We are concerned by the second straight decline in the monthly ASI index, especially given its ability to predict future sales volumes.
Nashville,TN (PRWEB) June 23, 2011
Dataium's May's ASI (Auto Shopper Intensity) index declined for a second straight month. The ASI index has been a consistent 60 day leading indicator of automotive sales. The ASI index for April accurately mirrored all automotive manufactures' May sales results, with 90% confidence level. May's ASI decline signals continued weakness in automotive sales for June and August. The ASI dashboard breaks out auto shopper intensity by make and model, providing additional insight into future sales volumes for all makes and models.
The ASI index, which measures national automotive shopping activity across local dealership websites and automotive portals, began to slow in February, then showed some signs of life in March, and reversed course in April. The ASI Index, which weights nearly a dozen online auto shopping behaviors saw declines in lead volume, number of automotive websites shopped, and auto shopper volume. One ray of hope was the slight uptick in inventory search volume; typically is a 30 day precursor to improved lead volume.
Breaking down the ASI index by segment and make and model shows the SUV segment down 17% in shopper interest over last month, and nearly 25% over the last five weeks. As a segment, Sedans bounced back with Hyundai leading the group in month over month gains, achieving a 25% increase. Hyundai has led the industry for several months in ASI index growth. At the model level, inventory searches for Nissan Altima, and Toyota Prius are up, on average, 19% for the last two months, indicating stronger lead volume for these specific models over the next 30 days. Hybrids, as a segment, were up double digits again in May at 12%. However growth in demand has slowed when compared to April's 17% gain. Since March, hybrid demand has more than doubled and its share of all inventory searches has tripled.
To follow up on our earlier Japanese quake report, Japanese imports, as a segment, continue to demonstrate resilience and brand loyalty. The group's ASI index has begun to climb again, and firms including Infiniti, Toyota, and Nissan are all up double digits in online inventory search volume. Honda and Mazda did not join their peers in these gains, showing strong declines in inventory searches on dealership websites.
Domestic brands, as a group, continue to decline, however, Ford and Dodge are fighting back with 10% and 15% ASI gains, respectively, over the past eight weeks.
Finally, pre-owned vehicles continue to gain share in consumer online auto shopping, now up to a record 68% of all inventory searches. "We are concerned by the second straight decline in the monthly ASI index, especially given its ability to predict future sales volumes," stated Eric Brown, CEO of Dataium. "There are some bright spots in the numbers particularly for imports and fuel efficient vehicles."
To request complete access to Dataium's ASI predictive modeling tool on future consumer demand by make and model, trim level, segment, region, and market contact Dataium at http://www.dataium.com/contact, or call 877-896-DATA (3282).
Through proprietary patented data collection and analytics, Dataium aggregates and measures billions of auto shopper events among millions of active auto shoppers across a network of diverse automotive websites. Dataium not only provides data and research on auto shopper behavior nationally, but by specific makes, models, vehicle segments, and specific markets as well. The national report is available for download at dataium.com/library. Dataium reports and dashboards are available on a subscription basis or may be customized for those who wish to access real-time updates or may have specific data requirements.
About Dataium, LLC
Dataium is the largest aggregator of Internet automotive shopping activity. The company collects, analyzes, and indexes billions of online automotive shopping events. Dataium supports patented data collection and reporting technology; VisiCogn® Collection Utility, VisiCogn® Knowledge Center, VisiCogn® INSITE, and is also known for its ASI™ index. For more information, visit http://www.dataium.com, email: info(at)dataium(dot)com, or call 877-896-DATA (3282).
# # #