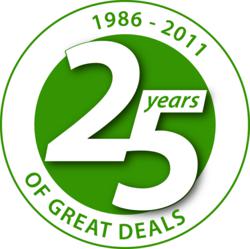 "We have come a long way since our early days in Reno, Nev.," says Keith Richardson, founder, CEO and chairman of Sierra Trading Post. "We're thankful for every customer we've earned the right to serve in our 25-year history."
Cheyenne, WY (PRWEB) June 27, 2011
Multichannel retailer Sierra Trading Post is celebrating its silver anniversary and marking the milestone by launching the biggest giveaway in its history – more than $25,000 worth of prizes & trips.
"We have come a long way since our early days in Reno, Nev.," says Keith Richardson, founder, CEO and chairman of Sierra Trading Post. "We're thankful for every customer we've earned the right to serve in our 25-year history."
In honor of 25 years in business, Sierra Trading Post is giving away daily prizes through July 25. The combined value of these daily prizes is more than $25,000 and includes: $25-$1,000 shopping sprees, product packages for watersports, camping, footwear and hiking, iPad 2's, one United Airlines gift card and one year's worth of free ground shipping. Sierra Trading Post will name 270+ winners.
Although most prize packages are yet to be awarded, Sierra Trading Post has already selected two sets of winners to fly out to the Rocky Mountain region for all-expenses' paid vacations. Those trips include rodeos, rafting, horseback riding, concerts, a tour of Yellowstone National Park and regional festivals such as Cheyenne Frontier Days. Later this year, the 25-year-old company is giving one lucky winner and up to three guests a ski vacation to Jackson Hole, Wyo. to wrap up the anniversary celebration.
"Our customers know we offer great deals on great brands, and that hasn't changed in 25 years of doing business," says Gary Imig, president of Sierra Trading Post. "We're going all out this year because we are proud of our heritage, and we recognize it is the loyalty of our customers that has kept us going strong for 25 great years."
To enter to win the daily contest, visit STP.me/25th. Daily giveaways will also be announced on Twitter, Facebook and the Sierra SocialHub.
About Sierra Trading Post: Headquartered in Cheyenne, Wyo., Sierra Trading Post is a multichannel retailer known nationwide for offering "Great Deals. Great Brands." Sierra Trading Post purchases brand name overstocks, closeouts and 2nds, and offers customers 35-70% savings every day. Founded in 1986, Sierra Trading Post is celebrating its 25th anniversary, and has saved customers more than $3 billion on outdoor gear, shoes, men's clothing, women's clothing, accessories and home furnishings. A top 100 Internet retailer in sales per Internet Retailer Magazine, Sierra Trading Post operates four outlet stores in Boise, Idaho; Reno, Nev.; Cheyenne and Cody, Wyo.; with customer service call centers in Cheyenne and Cody.
# # #