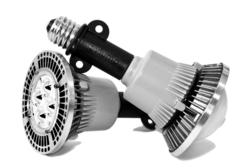 Tri-State G & T offers a rebate for up to 50% of the material cost, or $100.00 per lamp for up to 25 lamps.
Seattle, WA (PRWEB) June 23, 2011
Seattle based LED Lighting Manufacturer, Evluma, announces new rebate opportunities from Bonneville Power Administration (BPA) and Tri-State G & T for local utilities looking to reach energy conservation goals by installing Clearlight LED retrofits for 50-175W Mercury Vapor and 70-150W High Pressure Sodium dusk-till-dawn "Security Lights."
The rebate currently offered by BPA is part of their Commercial and Industrial Lighting Efficiency Program. Customers can download the Lighting Calculator for more information. Originally announced at $100.00 per lamp, the BPA rebate was increased to $120.00 with the change from version 2.1 to version 2.2 of the Lighting Calculator. Tri-State G & T offers a rebate for up to 50% of the material cost, or $100.00 per lamp for up to 25 lamps, whichever is lower. The Tri-State G & T offer is for their 44 co-op members in Colorado, Nebraska, New Mexico and Wyoming. The Tri-State G & T rebate is aimed at helping member co-ops develop pilot programs, making new product evaluation more affordable.
"Rebates incentivize conservation and give co-ops an extra edge when exploring new technologies, " says Keith Miller, President and CEO of Evluma. Recently qualified by the Lighting Design Lab (LDL) in Seattle, WA, both the Clearlight 40W EcoSpot and 50W Beacon aid utilities looking to eliminate banned Mercury Vapor ballasts, increase energy savings, and reduce maintenance costs. A list of LDL LED qualified products can found on the Lighting Design Lab's website. "Evluma is seeing pro-active interest from organizations that support utilities and co-ops as they make decisions about how to integrate LED lighting into their infrastructure." Clearlights have a 5-year warranty and are UL approved.
About Tri-State Generation and Transmission Association, Inc.
Tri-State is a wholesale electric power supplier owned by the 44 electric cooperatives that it serves. Tri-State generates and transmits electricity to its member systems throughout a 250,000 square-mile service territory across Colorado, Nebraska, New Mexico and Wyoming.
About BPA
The Bonneville Power Administration, headquartered in Portland, Oregon, is a federal agency under the U.S. Department of Energy. BPA serves the Pacific Northwest through operating an extensive electricity transmission system and marketing wholesale electrical power at cost from federal dams, one non-federal nuclear plant and other nonfederal hydroelectric and wind energy generation facilities. BPA aims to be a national leader in providing high reliability, low rates consistent with sound business principles, responsible environmental stewardship and accountability to the region.
About Evluma
Evluma is a division of Express Imaging Systems, LLC (EIS), a company that has been designing award winning, high-power LED applications for the photographic industry since 1995. Formed in 2008, Evluma is committed to developing environmentally low impact lighting solutions that are affordable and long lasting. Evluma is a Lighting Facts LED Product Partner.
# # #