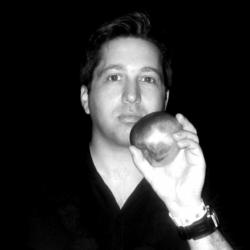 "I promised more fun in 2011," said President Christopher Pratt, "Our new Creative Director is going to work day and night to make that happen."
El Segundo, CA (PRWEB) June 24, 2011
CandyWarehouse.com continues a multi-year trend of expansion with the acquisition of Marc Jacobs, a seasoned creative director with an extensive background in interactive and traditional design work. Though he comes to CandyWarehouse.com with ample skills, he'll now face the toughest challenge of his professional life: the daily production of CandyWarehouse fun.
"Last year, I promised our customers they'd see more candy art, more products, more online features, more entertainment, and more fun," said founder and President Christopher Pratt. "I'm a man of my word, and I know that adding Marc Jacobs to our team guarantees 50 percent year-over-year growth in CandyWarehouse fun."
Jacobs (who is of no relation to the fashion designer of the same name) joins the elves of CandyWarehouse after developing FreshDirect.com, the award-winning online grocer of New York City, as well as SonyMusic.com and the websites for Sony Music artists such as Bruce Springsteen and Mariah Carey.
For his part, the newest elf on the crew seems unfazed by the relentless pressure to produce a wide variety of whimsical CandyWarehouse amusements; Jacobs' can-do attitude shines in the starring role he plays for CandyWarehouse.com's new Astro Blaster Foam Rocket Launcher video, now available at YouTube: http://www.youtube.com/user/candywarehouse#p/u/6/OxyiMoGMrg4
"Honestly, I couldn't be more excited to take my place among the proud elves of CandyWarehouse.com," said Jacobs. "Surrounded by Giant PEZ , Yellow Liquid Candy Urine Samples, Whirly Pops and two-foot-long Gummi Worms… I really am the proverbial kid in the candy shop, and I'm going to make sure CandyWarehouse.com customers experience some zany fun every time they visit the site."
Recognized last year by Inc. Magazine as one of the country's top 5,000 fastest growing private companies (http://www.inc.com/inc5000/list/2351), CandyWarehouse is currently fulfilling summer orders and preparing its supplies of Candy Corn and Gummy Boogers for the busy season leading up to Halloween.
About CandyWarehouse.com, Inc.
Since 1998, CandyWarehouse.com has been the world's top online candy store, providing popular and hard-to-find as well as nostalgic and the latest-trend candy delivered fresh and fast to customers both domestically and internationally. The company sells to businesses and individuals and carries more than 5,000 varieties of candy and candy-related products.