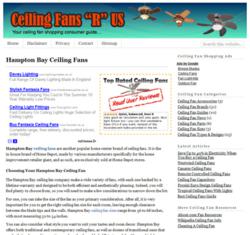 Conwy, Conwy (PRWEB) June 28, 2011
Consumers looking to purchase a ceiling fan to keep their homes well ventilated no longer need to spend hours searching the internet for helpful information and expert advice, thanks to a new site called CeilingFansRus.com.
CeilingFansRus.com is the online project of a team of ceiling fan collectors and researchers, who noticed that ceiling fan resources on the web were few and hard to find.
"Ceiling fans are excellent products with a lot of benefits with regards to ventilation, aesthetics, energy efficiency and even health, so information about them should not be hard to look for," commented Daniel Gibbs, the website's editor.
The site has comprehensive guides on the most popular ceiling fan brands including, Hunter ceiling fans and Hampton Bay ceiling fans, as well as information about the various types and designs of ceiling fans available. There is also a troubleshooting section where consumers can find solutions to common problems with their fans and articles about where to find replacement parts and accessories.
Some of the main benefits of ceiling fans include providing natural cooling and heating effects for all-year comfort, savings on monthly electric bills, driving away pests and accentuating room decor.
About CeilingFansRus.com
CeilingFansRus.com is a site that provides a wealth of ceiling fan-related information for ceiling fan owners and those looking to purchase a residential or industrial ceiling fan. The site provides in-depth fan information, shopping guides, maintenance and troubleshooting tips, and overviews of popular ceiling fan companies.
For more information, visit http://www.ceilingfansrus.com
###