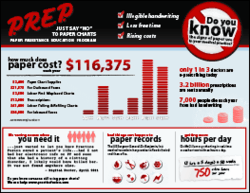 Well-designed EMR systems have been proven again and again to save time, improve communication and combat medical errors, which kill nearly 100,000 patients each year.
San Francisco, CA (PRWEB) June 23, 2011
Paper medical records continue to be a dangerous drain on the US healthcare system. Today, 90 percent of doctors are still using paper charts in their practice, despite advances in Electronic Medical Record (EMR) technology. From illegible handwriting to patients not being able to access vital data when needed, paper medical charts are a major driver of wasted resources and time in the medical sector.
Why should doctors and patients across the US should "just say no" to paper charts?

Illegible handwriting on medical documents kills 7,000 people a year.
3.2 billion prescriptions are sent annually – the majority still written on paper.
Managing paper charts, from transcriptions to labor needed to pull and re-file charts, costs medical practices $116,375 a year on average
Paper charts are vulnerable to being lost, stolen or destroyed in a disaster. EMRs make patient records securely accessible anywhere, anytime.
Physicians using Practice Fusion's EMR save valuable time by charting digitally. Dr. Lynn McCallum, a family physician in Redding, CA, says charting in real-time saves her two to three hours a day. (BlogHer)
Click here to view and share the Just Say No to Paper infographic.
"When medical records are liberated from paper charts, you see dramatic improvements for small medical practices," said Ryan Howard, CEO of Practice Fusion. "Patients and doctors should all be demanding healthcare technology. Well-designed EMR systems have been proven again and again to save time, improve communication and combat medical errors, which kill nearly 100,000 patients each year."
Practice Fusion is the fastest growing EMR community in the US. With a unique free, ad-supported EMR system for doctors, Practice Fusion helps to remove all cost and technology barriers for medical practices transitioning away from paper charts. Medical providers interested in making the switch to Electronic Medical Records for free, can sign up online in seconds at http://www.practicefusion.com
# # #