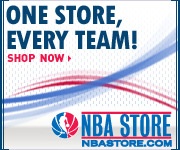 (PRWEB) June 23, 2011
NBA fan gear includes accessories, apparel, and collectible merchandise for casual and hardcore fans. A true fan will want one of the customizable jerseys with their favorite player's name and number. MyReviewsNow, in conjunction with the NBA Store is excited to present Jerseys which are available in the Authentic, Replica, or Swingman styles.
Fans can also choose a hat to match their jersey. Team fleeces and outerwear are best for cold weather, and pants or shorts can complete a fan's outfit. Adult men and women each have their own clothing section. Children and young adults can find appropriately-sized apparel in a third section.
Every basketball player needs his kicks, and the NBA Store sells popular sneaker lines like the Jordan Sneaker Collection. Fans can find the same shoes that their favorite players use in games. Although basketball sneakers are the most popular type of shoes, fans can also buy casual shoes and slippers.
The Collectibles section features framed photos, signed memorabilia, and trading cards. Each collectible is stamped with a tamper-resistant hologram to prevent fraud, and a unique number is inscribed with the hologram. Players write out each signature by hand, so signatures may vary slightly between collectibles.
True fans can turn their home or workplace into a reflection of their team support in the Home & Office section of the store. Fan furniture allows people to watch games in style. Although commercials and halftimes may force people to take a break from the TV, fans can show their support in the bedroom or kitchen by buying a household item. For example, a fan can keep warm while they sleep with a full set of sheets or bedding supplies.
The NBA has had some incredible stars play on its courts, but Michael Jordan was one of the best players of all time. Because Jordan had outstanding talent and unusual marketing acumen, he became one of basketball's first global superstars. The Jordan Legacy Collection of DVDs shows Jordan's finest moments from his distinguished career.
DVD collections of bloopers, championships, and legendary players are available by team. Although every player wants to be on a highlight reel, mistakes happen to everyone. The blooper DVDs capture the funniest mistakes made on camera by professional basketball players. A championship DVD shows special moments from a team's title-winning season. Fans who have a favorite player can purchase a DVD of their career highlights, but players with ongoing careers are not available on DVD.
A special Dallas Mavericks Championship Pack is only available for a limited time. The collection commemorates the Dallas Mavericks' victory over the Miami Heat for the title. The pack's NBA team wear includes a hat, shirt, and towel. A DVD chronicling the Dallas Mavericks' championship run is also included in the bundle.
###