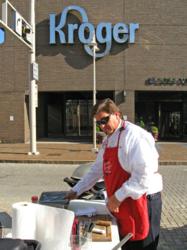 On the spot, Mike said "I want this in my stores". Even though the category review was still months away for Spices, special exception was made to introduce Lawhorn's into BI-LO stores as soon as all the paperwork could be completed.
Haines City, Fl (PRWEB) June 24, 2011
Tim Lawhown, CEO of Lawhorn's Signature Seasonings, has been cooking for top executives at some of America's largest grocery chains lately, bypassing the traditional new product pitch and going directly for the taste buds. So far, this strategy has proved well worth the effort. His latest "Taste-Test" road trips have landed his product in all the BI-LO Supermarkets and to be currently under consideration by Kroger. Add that to those major chains already distributing the brand like Publix, Winn Dixie and Walmart Neighborhood Markets and you see a pattern emerging - Tim Lawhorn is taking America, one grocery chain at a time!
Conventional wisdom says a little company like Lawhorn's can't get a new product on the shelves of the Nation's biggest grocers, but Tim Lawhorn, is not a conventional guy. He has found a way around all the giants in the spice aisle. He's taking his case right to the top - literally.
One sure way to get attention is to set up a grill and cook right in front of a grocery chain's corporate headquarters. That is exactly what Tim has been doing (by invitation of course), when he shows up early in the morning with fresh meats and veggies and a portable grill. By 10 am he is ready for the "Meet and Eat" board room meeting. Tim prepares his platters and is escorted in to meet the top buying executives with samples in hand to demonstrate his flavor enhancing seasoning in action. Tim has learned that once a Grocery Buyer or a Category Manager actually tastes the difference that cooking Lawhorn's Signature Seasoning makes on chicken, pork, steak, fish or veggies they are hooked!
Tim cooked for top executives at Kroger in Cincinatti, OH and at BI-LO Supermarkets in Greenville, NC so far. When those in the boardroom at BI-LO were done tasting, Lawhorn's was give a preliminary green light and is now in all their stores Nationwide.
At BI-LO when everything was prepared just right, the bite-sized morsels were loaded up on party platters and carried right in the front door up to the conference room. Tim's first encounter with Mike McShane, the National Category Manager for BI-LO was with food in hand! After a few social exchanges, the chomping began in earnest. The smiles, the ooh's, the ahh's, the "wow, this taste is amazing's" began to mix with the aromas of freshly grilled meats and veggies. It was a moment to remember for Tim, the lights went on full power - thinking to himself "this is the way to convince them that we are what we claim to be."
On the spot, Mike said "I want this in my stores". Even though the category review was still months away for Spices, special exception was made to introduce Lawhorn's into BI-LO stores as soon as all the paperwork could be completed.
After landing BI-LO Supermarkets, Tim set his sites on Kroger, the second largest grocer in the country. Traveling from sunny Florida to chilly Cincinnati, Tim set up his grill at the doorsteps of Kroger's downtown headquarters in the shadow of their huge, multi-story office building. But size was not important when it came to the taste test. Top executives of the biggest chains realize the amazing properties of this seasoning just as quickly as consumers do. Kroger's top brass loved the product and are working towards a final decision. The verdict may still be out on Kroger, but if Tim's "Cinderella Story" continues - he is likely to win his way into their 3000 stores soon.
Tim Lawhorn, quoted in Progressive Grocer recently says "today's consumer is looking for healthier ways to prepare meals, and we fill that need for them. Eating healthy is gaining a tremendous amount of attention, and people are trying to make smarter choices. It is very important to partner with a center-of-the-plate or side item consumers prepare at home, in order for them to taste our product," says Lawhorn, noting that when conducting grocery store demonstrations, "we generally cook four to five different proteins, as well as starches and vegetables, to demonstrate the versatility of our seasonings."
Lawhorn's is now one of America's fastest growing seasoning blends. What started as a grass-roots, home-grown, small town Florida seasoning is quickly gaining a National flavor. Tim developed this "secret" blend of all-natural, lower sodium and kosher mix of spices and herbs while he was an executive chef. When a Hormel executive was dining at the restaurant where Tim was working, he demanded to see the chef and find out why his steak was so extraordinarily delicious. He also told Tim in that fateful meeting, that he "needed to bring this product to market". Tim did just that! Now produced by Spice World in Orlando, Tim's original blend is true to the exacting formula Tim created that is responsible for it's unique characteristics.
This marketing method is doing so well Lawhorn's is now planning a Fall 2011 "Taste Test" Tour designed to bring on even more top name stores.
Tim is sure that Lawhorn's Signature Seasoning will change the way America cooks. Truth is, once a top executive from a grocery chain tastes this seasoning, they can also taste what a ringer this product is for continued hyper-growth. To have grown this fast in only three years is unprecedented - but Lawhorn expects the next year will eclipse even that record. Read more about this tasty success story here (with video) - http://lawhorns.net/blog/?p=422
# # #