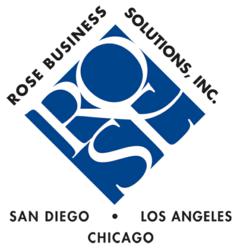 For Microsoft to recognize our myGPcloud on-demand ERP solution, validates our vision to focus on the cloud in order to provide better, more reliable and cost effective access for customers to their business systems,"
San Diego, CA (PRWEB) June 23, 2011
Today, Rose Business Solutions Inc., announced it has been selected as a finalist for the Microsoft Dynamics Cloud Business Excellence Partner of the Year Award.
"For Microsoft to recognize our myGPcloud on-demand ERP solution validates our vision to focus on the cloud in order to provide better, more reliable and cost effective access for customers to their business systems," said K. Linda Rose, president of Rose Business Solutions. "Our organization has been hosting Microsoft Dynamics since 2000 and we decided to offer the first and only on-demand Microsoft Dynamics GP solution so users could get up and running in less than five minutes with no upfront fees or annual commitments. The number of new subscribers has proven that companies are confidently migrating to the cloud in increasing numbers."
Awards were presented in multiple categories, with winners chosen from a set of more than 3,000 entrants worldwide. The Microsoft Dynamics Cloud Business Excellence Partner of the Year Award for building a successful cloud practice recognizes Rose Business Solutions, Inc., who has shown both innovation and results related to selling and delivering Microsoft Dynamics CRM Online or Microsoft Dynamics ERP partner-hosted offerings, and has met customer demands by packaging intellectual property product and/or services.
"We are proud to recognize this outstanding group from our highly valued worldwide partner network as our 2011 Partner Award finalists," said Jon Roskill, corporate vice president, Worldwide Partner Group, Microsoft Corp. "We applaud the unique perspective and creativity each of these companies brings to solving customer business and technology challenges. Our strong partnership along with their commitment to customers plays an essential role in our mutual, long-term success."
Rose Business Solutions is a nationally-recognized technology provider, a Microsoft Gold Enterprise Resource Planning Competency within the Microsoft Partner Network, and one of the Southern California region's largest providers of Microsoft Dynamics solutions. Through its RoseASP division, it is the premier provider of hosted Microsoft Dynamics solutions as well as its newest on-demand solution, myGPcloud.
The Microsoft Partner Awards recognize Microsoft partners that have developed and delivered exceptional Microsoft-based solutions over the past year.
About Rose Business Solutions
Founded in 1991, Rose Business Solutions is a leading business systems and implementation group in Southern California. It has assisted hundreds of small and mid-sized companies to implement Microsoft Dynamics applications. With a highly skilled and experienced staff of certified accountants and industry professionals, Rose Business Solutions distinguishes itself from other value-added resellers on its high commitment to customer service. In 2000, it founded RoseASP, a division dedicated to hosting financial and accounting solutions and related modules for the company's clients and partners. For more information about Rose Business Solutions, visit http://www.rosebizinc.com.
###