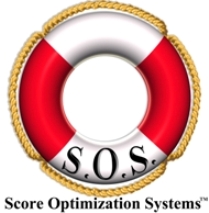 Thanks to Score Optimization Systems, I was able to overcome credit mistakes I made when I was younger and after signing up for their services, I was able to purchase my very first home! -Amanda Walls, U.S. S.S.A
Dallas, TX (PRWEB) June 28, 2011
S&S Private Capital, Inc. announced today that its S.O.S. - Score Optimization Systems has reached 25,000 consumers across the country who have utilized their credit score optimization services. S.O.S., the most advanced technology in the credit repair industry, is able to help its clients meet the credit score requirements and lending guidelines necessary to qualify for the home loans and other financial solutions they were previously turned down for based on past damaging trade history reporting to their Equifax, Trans Union and Experian personal credit files.
S&S Private Capital's' S.O.S. system analyzes it's client's credit report in its entirety, identifying all the factors both negative and positive, having any affect on their credit score that is preventing them from obtaining their goals. Based on the financial goals of the client, their current credit situation, and the bank's loan requirements, Score Optimization Systems will then calculate the most effective and efficient plan of action necessary in assisting the client in successfully meeting all the loan stipulations.
"Thanks to Score Optimization Systems, I was able to overcome credit mistakes I made when I was younger. Gene Schwalen and his staff made the process very simple and after signing up for their services, I was able to purchase my very first home!", reported Amanda Walls with the U.S. S.S.A.
With the S.O.S. Guaranteed Loan Approval Program, consumers can now turn all their "Maydays" into "Paydays" by not only qualifying for their home loan, but by also saving thousands of dollars in interest overcharges every year.
S&S Private Capital, Inc. and its S.O.S. – Score Optimization Systems focuses on credit report repair, and more importantly, credit score optimization. The S.O.S. consulting services educates clients on how to obtain their home loan and other financial goals while qualifying for the most competitive rates and programs. In business since 1998, the developers of Score Optimization Systems have helped more than 25,000 thousand clients including individuals, families and businesses across the country in realizing the gift of a great credit rating and the value it brings.
# # #