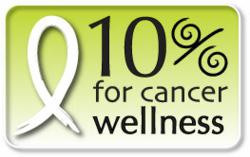 Our motivation to not only do well, but do good with our efforts at The Tea Spot is sincere. We hope to foster wellness for as many people as we can reach with our 10% for Cancer Wellness donations, and by making fresh loose leaf tea more accessible
Boulder, Colorado (PRWEB) June 28, 2011
The Tea Spot was founded with the mission of fostering wellness by making loose leaf tea an everyday luxury. The essence of the philanthropic company's vision lies in designing and marketing products that provide a quality loose tea experience, and consistently making donations that foster wellness. 10% of The Tea Spot's revenues are donated in-kind to cancer and community wellness programs.
2011 will mark The Tea Spot's most charitable year yet. Thus far, The Tea Spot has pledged over $100,000 in donations for the year. The Tea Spot's cancer-survivor founder and CEO, Maria Uspenski, has been adamant about the company's humanitarian goals from the very beginning. "Our motivation to not only do well, but do good with our efforts at The Tea Spot is sincere. We hope to foster wellness for as many people as we can reach with our 10% for Cancer Wellness donations, and by making fresh loose leaf teas more accessible and easy to brew."
Beneficiaries of The Tea Spot's 2011 donations include Cancer Climber, Colorado Ovarian Cancer Association, Doctors Without Borders, Boulder Community Hospital, Healthlinks Clinic, Greater Clermont Cancer Foundation, and Rally for Kids.
ABOUT THE TEA SPOT, INC. The Tea Spot is a certified woman-owned and operated business producing proprietary products for loose-leaf tea. Patented tea serving and steeping products are marketed under the Steepware® trademark. They also offer a line of exclusive, organic, and Fair-Trade Certified™ leaf teas. Based in Boulder, Colorado, the company was founded in 2004 by Maria Uspenski, a cancer survivor drawn to the health benefits of leaf tea during her recovery. She set forth to modernize the loose-leaf tea experience, making it an everyday luxury. Her message is simple and powerful: tea in its freshest form renders incredible flavor, unmatched health benefits, and is eco-friendly. The company ensures that its products uphold clean, sustainable and fair manufacturing standards. The Tea Spot's model of social entrepreneurship incorporates a culture of giving as it grows: Ten percent of every sale made is donated in-kind to cancer and community wellness programs. More at theteaspot.com or media(at)theteaspot(dot)com.
# # #