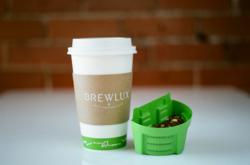 Boulder, CO (PRWEB) June 28, 2011
The Tea Spot has submitted a proposal for a competitive Small Business Innovation Research (SBIR) grant to the National Institute of Food and Agriculture (NIFA), the cooperative research agency within the U.S. Department of Agriculture (USDA). The $460,000 Phase II SBIR grant would be for marketing research in support of the distribution of a compostable tea filter for to-go loose leaf tea in mass-foodservice.
The Tea Spot has exclusive marketing and distribution of a patent pending bioplastic tea infuser for to-go loose leaf tea, trademarked Brewlux. The product is manufactured in Colorado from a U.S. grown corn resin. Brewlux was chosen as the best innovation at the 2010 World Tea Expo in Las Vegas.
Increased awareness of the health benefits and premium varieties of full leaf tea, as well as economic pressure to provide better value products, are driving the demand for loose leaf tea in foodservice. Today, roughly 180 million cups of premium tea are served in the U.S. annually (Kamenetz, 2010), resulting in a total market for premium tea filter products like Brewlux of about $36 million per year.
The primary loose tea preparation method in foodservice requires bagging loose tea at the time of purchase and securing the hand-packed paper filter to the cup. This method is time-consuming in preparation and exposes the barista as well as the consumer to handling a hot, soaked filter bag. Alternatively, premium tea can be served via pre-packaged tea bags, adding cost through additional non-renewable materials and packaging to the end product.
Brewlux provides a larger volume for a more premium infusion of tea leaves relative to tea bags and paper filters. In addition, because Brewlux is a reusable and biodegradable product made of corn, it presents a renewable alternative to the premium tea bag for carry-out tea. When paired with a biodegradable cup and lid, loose tea beverages made with Brewlux are 100% compostable, making the entire system environmentally sustainable.
The Tea Spot completed research funded by a phase I SBIR grant on economic feasibility of the Brewlux product. The selection of compostable corn-based resin for this application was based on the research completed in Phase I. The research included a streamlined life cycle analysis comparing compostable and non-compostable material options. In addition to being made of a more eco-friendly material, the product required a material that maintains structural integrity at boiling water temp (212 °F). Phase I research also addressed economic factors; resin and production costs must be viable within the constraints of both operating business margins and the willingness of foodservice market users to pay for the product.
Through grants offered by NIFA, the USDA enables researchers throughout the United States to solve problems critical to farmers, consumers, and communities. NIFA is the USDA's major extramural research agency. NIFA-funded research spans problems and issues encompassed within 13 national emphasis areas.
ABOUT THE TEA SPOT, INC. The Tea Spot is a certified woman-owned and operated business producing proprietary products for loose-leaf tea. Patented tea serving and steeping products are marketed under the Steepware® trademark. They also offer a line of exclusive, organic, and Fair-Trade Certified™ leaf teas. Based in Boulder, Colorado, the company was founded in 2004 by Maria Uspenski, a cancer survivor drawn to the health benefits of leaf tea during her recovery. She set forth to modernize the loose-leaf tea experience, making it an everyday luxury. Her message is simple and powerful: tea in its freshest form renders incredible flavor, unmatched health benefits, and is eco-friendly. The company ensures that its products uphold clean, sustainable and fair manufacturing standards. The Tea Spot's model of social entrepreneurship incorporates a culture of giving as it grows: Ten percent of every sale made is donated in-kind to cancer and community wellness programs. More at theteaspot.com or media(at)theteaspot(dot)com.
###