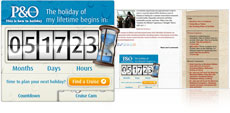 (PRWEB) June 24, 2011
Featuring a cruise clock which allows passengers to watch the days pass by on their computer until their next cruise, the desktop widget also features a 'Who's onboard' section where users can log on with their Facebook details to see who else has registered for their cruise.
The widgets have already proven popular amongst Facebook followers with more than 2000 downloads in the first two weeks since their launch and a chorus of praise from fans of the cruise line's page.
Standout features of the desktop widget that have delighted users include cruise cam images across the entire P&O Cruises' fleet so fans can keep an eye on their favourite ship and the option for avid cruisers to download colourful P&O Cruises' screensavers and wallpaper to help bring their cruise experience to life
Further reaching out to their growing online community, the cruise line has also launched an online widget which allows users to place the countdown clock on their personal blogs or website, as well as allowing those who participate in cruise forums to place the countdown image as part of their signature.
Jenny Lourey, Senior Vice President of Carnival Australia, which operates P&O Cruises, said the design of the widgets recognised the growing role social networking sites such as Facebook play in the cruise experience, as well as the sense of anticipation amongst cruise passengers as their departure date nears.
"P&O Cruises' passengers are extremely passionate about cruising, demonstrated by the 36,000 plus fans on our Facebook page. The development of the widgets gives them the opportunity to further engage in the cruise experience, network with other cruisers and build excitement for their next holiday," Ms Lourey said.
The widgets will also help boost the cruise line's communication with passengers, who will receive urgent notifications, reminders and a host of cruising tips via the widget to help keep them up-to-date with everything they need to know before setting sail.
The introduction of the widgets follows the successful launch last month of the P&O Cruises iPad app which so far has received hundreds of downloads, as well as being featured in iTunes 'New and Noteworthy' section.
So download P&O Cruises widgets today.
For bookings, information on top holiday destinations and more visit P&O Cruises website. Alternatively contact a licensed travel agent or P&O directly on 13 24 94.
# # #