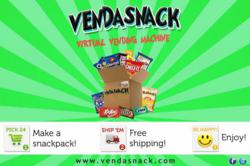 Chicago , IL (PRWEB) June 24, 2011
Everyone likes snack food, but purchasing it from a vending machine can be frustrating. Either the machine eats the money, it's not stocked with the wanted products, or the bag of munchies gets stuck. The solution is simple – buy from Vend A Snack, the virtual vending machine.
"I was tired of using the old vending machines where most of the time my money was eaten by the machine and there was a limited selection," said Usman Tarar,co-founder of VendASnack.com. VendASnack.com is a complete online vending machine without the hassle."
Launched in June 2011, Vend A Snack represents the first of its kind and ensures individuals always have the snacks they want, whenever they want them. The site features a selection of over 200 snacks from which to choose. The online vending machine offers 24 snacks for $24 and free shipping. Those utilizing Vend A Snack can use the coupon code "PRESS" to receive $2 off their first order.
VendASnack.com has an extensive variety of snacks, from sweet to salty treats. For those who crave carbs, the online vending machine features chip and cracker favorites such as Pringles®, Pepperidge Farm Goldfish, Lays Chips® and Cheetos, along with Combos and Doritos.
A variety of international foods is available, including ethnic favorites such as Pocky from Japan and Swedish Red Fish from Sweden, along with Lucas BomVaso, Pelon Pelo Rico and Duvalin strawberry candies from Mexico. A wide selection of candy bars more familiar to those in the U.S. encompass favorites such as Twix, Skittles, Snickers, Reese's and Butterfinger, along with Hershey bars, M&Ms, Mounds and Baby Bottle Pop®.
Consumers with a taste for mint will find a myriad of mint and gum choices. The site features Wrigley, Trident, Stride, and Orbit brands, in addition to Mentos, Eclipse, Extra and Dentyne. Everyone can use a cookie break, and Vend A Snack offers chocolaty sweets from Keebler®, Knott's Berry Farm, Oreo and Famous Amos.
Nuts are a healthy snack, full of protein. The Planter brand of nut snacks are one of the most recognizable in the world, and Vend A Snack has peanut snacks and trail mixes in a wide variety of flavors. David Sunflower seeds are also available.
For people on the go, breakfast bars and mini boxes of cereal provide a morning boost, as well as a mid afternoon snack. Vend A Snack offers breakfast bars from Nature Valley, NutriGrain and Pop Tarts, combined with cereals from Post and Kellogg's.
VendASnack.com allows consumers to have their favorite snacks on hand any time of the day or night. No one has to resort to physical vending machines that are poorly stocked or don't produce the desired snacks. As an added bonus, shipping is built in to the price of all purchases, providing consumers with extra value.
VendASnack.com can be reached by phone at 1-312-608-7353, or via email at support(at)vendasnack(dot)com. For more information, visit the website at http://vendasnack.com.
###