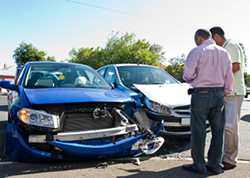 Nashville, TN (PRWEB) June 23, 2011
The Nashville law firm of Michael D. Ponce & Associates, a team of Tennessee personal injury lawyers, hereby announces that it has completed and published a new online resource intended to provide important information to anyone who has been injured in a TN auto accident and for anyone whose family has experienced a wrongful death in this type of a crash.
The Web site provides information regarding statistics that relate to different types of Tennessee auto accidents as well as explanations regarding the potential liability that could be faced by those who were at fault for these different types of crashes. The resource also provides insight with regards to insurance companies and how to deal with them in the aftermath of a crash.
In addition to the information provided relating to Tennessee auto accidents, this free online resource also provides specific information for online visitors free of charge with regards to Tennessee bus accidents, motorcycle accidents, railroad accidents, trucking accidents and drunk driving accidents.
Finally, this new online resource provides articles that relate to the subject matter of Tennessee traffic accidents that deal with specific issues that can be a component of any crash as well as an opportunity for an online visitor to complete a short and simple form that will be sent to a Nashville, TN personal injury lawyer at the firm for review.
About Michael D. Ponce & Associates:
Michael D. Ponce & Associates is a law firm located in Nashville, Tennessee that has represented injured clients in several different types of personal injury matters. Cases the firm has handled include auto accidents, bus accidents, motorcycle accidents, railroad accidents, drunk driving accidents, trucking accidents, pedestrian accidents, premises liability, swimming pool accidents, dog bite attacks, Tennessee wrongful death claims, Social Security Disability claims and bed bug cases.
###