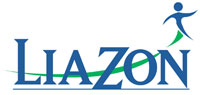 "Buffalo is where we proved that our new ideas work. Companies here have been quick to pick up on this innovation and now we are expanding to other parts of the state and country."
Buffalo, NY (PRWEB) June 24, 2011
Liazon, the leading innovator in employee benefits solutions and technology, topped the list of the 50 fastest growing companies in Western New York in the Fast Track 50 awards presented by Buffalo's Business First newspaper. The award is based on Liazon's 1,262.45% growth over the last three years.
"We are honored to receive this prestigious award, especially since this is the first year we have been eligible to enter," said Ashok Subramanian, Liazon's CEO and co-founder. "It's really a testament to all of our clients in Western New York and throughout the country who made this award possible."
Liazon empowers employers of all sizes to adopt a new consumer-centric model for how employees buy the insurance and other protection they need. Employers save money and fix their long-term benefits costs using Liazon's defined contribution solution. Employees use those funds toward the purchase of insurance and other services in Liazon's Bright Choices® Exchange -- the online store where people build their own personal benefits portfolio. Bright Choices helps each consumer navigate the vast number of product combinations to most cost-efficiently and effectively meet their families' true healthcare and financial needs.
"The theme of the Fast Track 50 award is 'Driving Western New York's Economy' and we're proud to be part of it," Subramanian said. "Buffalo is where we proved that our new ideas work. Companies here have been quick to pick up on this innovation and now we are expanding to other parts of the state and country."
Liazon was founded in 2007, and in addition to its original Buffalo offices, the company now also has offices in New York City and Boston. The company recently secured a $12.7 million round of growth funding led by Bain Capital Ventures, Ingleside Investors, and Rand Capital, SBIC.
In May, the Buffalo Niagara Partnership honored Liazon with an Innovate Award for its groundbreaking Bright Choices® Exchange.
About Liazon
Liazon Corporation was founded in 2007 to tackle the myriad problems inherent in employee benefits by creating an entirely new consumer model. Liazon's Bright Choice® Exchange has pioneered the private online benefits store where employees find, learn about, and purchase healthcare, other insurance products and a wide range of services. Liazon has demonstrated success in taming benefits costs for its thousands of customers across the U.S. and in helping their employees save money and get better benefits. Central to Liazon's success is its service delivery model through its Consumer Service Center and its Client Service Teams programs which off-load employers' benefits administration burden. Liazon's solution scales easily for companies of all sizes.
###