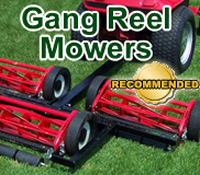 With a cutting swath up to 11 feet wide, gang mowers will allow you to cut grass faster than ever
(PRWEB) June 23, 2011
Today MowersDirect.com announced its recommendations for the best gang mowers.
"With a cutting swath up to 11 feet wide, gang mowers will allow you to cut grass faster than ever," said Todd Gwaltney, resident product expert at Mowers Direct. "If this type of mower is good enough to keep the fairways of your local golf course manicured, think how great your large expanse of yard will look."
A gang mower is a tow-behind finish mower that uses a fleet of three to seven reel mowers attached to an expanding frame. People can neatly cut large amounts of grass at once with a gang reel mower.
Since its inception in 2008, the Web-only superstore has put together a collection of mowers unrivaled anywhere. Mowers Direct now carries more than 200 models of mowers and tractors from the top brands such as Ariens, Honda, Husqvarna, Snapper and Toro.
MowersDirect.com has sought to become the online authority for lawn tractors, riding mowers, walk-behind mowers and yard tools. The product experts at Mowers Direct have tirelessly tested and researched all the models to determine which ones stand out.
After weighing all the field tests, product research, and customer insights, the product experts recommended only 3 gang lawn mowers.
Top Gang Reel Mowers
Good: Great States Gang Reel Finish Mower (3-Reels) - 3000-16
Better: ProMow Gold Premium Gang Reel Finish Mower (5 Reels) - GOLD5
Best: ProMow Gold Commercial Gang Reel Finish Mower (7 Reels) - SPORT7
In addition, Gwaltney personally wrote recommendations for all the gang mowers that made the grade.
MowersDirect.com hopes to provide customers with enough information and expert insight to allow them to pick the perfect gang reel mower for their lawn-care needs.
Power Equipment Direct operates nine niche online superstores. In addition to MowersDirect.com, the Bolingbrook, IL-based company operates AirCompressorsDirect.com, ElectricGeneratorsDirect.com, PressureWashersDirect.com, SnowBlowersDirect.com, WaterPumpsDirect.com, SumpPumpsDirect.com, ChainSawsDirect.com and LogSplittersDirect.com
###