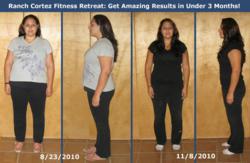 By following the workout and food regime for just 30 days, many people are able to lose ten percent or more of their body weight.
Bandera, TX (PRWEB) June 24, 2011
For the person who has tried every diet out there, a fitness vacation may be just what the doctor ordered. Especially when results are guaranteed.
The 30-Day Fat Farm Challenge at Rancho Cortez Fitness Ranch is a contest designed to give people the opportunity to lose both pounds and inches… the healthy way. Rancho Cortez ran their first 30-day challenge earlier this year. Everyone who participated lost both pounds and inches. In fact, a lot of pounds and inches. Lucy Khayat, a 25-year-old woman from the United Kingdom, lost over 15 pounds and regained her self confidence. At the end of her 30-day challenge, she burned her fat clothes.
Nick Smith, a 21-year-old man, lost 49.5 pounds. He felt like he had shed not just pounds and inches, but years off of his life. The dramatic weight loss wasn't just for the young, though. Barbara Wong, a woman in her sixties, lost 29 pounds during her 30 days at the fitness ranch.
Susan Roberts, the winner of the first 30-Day Fat Farm Challenge contest, lost 30 pounds in 30 days. Her winnings included a free stay and a makeover. She took advantage of her second free stay and lost another 30 pounds. After her impressive 60-pound weight loss and an image-changing makeover, her family members didn't recognize her.
According to ranch owner Mary Cortez, "By following the workout and food regime for just 30 days, many people are able to lose ten percent or more of their body weight. Although some guests stay for two or more months, 30 days is enough time make noticeable changes while learning new habits."
The second 30-Day Fat Farm Challenge begins July 15, 2011, and ends September 15, 2011. "Everyone who participates in the 30-day Fat Farm Challenge is a winner because they'll lose inches while increasing their fitness level," says Cortez.
Rancho Cortez Fitness Ranch offers a unique all-inclusive program for those looking for long-term weight loss. Located in Bandera, Texas—the Cowboy capital of the country—Rancho Cortez Fitness Ranch has guests participate in everything from hillside hikes and trail rides to weight lifting and water aerobics. The wide variety of classes, instructors and activities appeals to guests of all fitness levels. To make it more affordable, many guests use their insurance HSAs to pay for the cost of the ranch using pre-tax dollars.
For a complete list of rules or for more information on taking the challenge, visit http://www.ranchocortez.com or contact Mary Cortez at 830-796-9339.
###