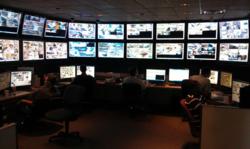 "It's a huge officer safety advantage for us." Deputy Chief Daniel Garcia
Dallas, TX (PRWEB) June 23, 2011
Police Department's nationwide are talking about the latest proactive video monitoring service in the industry today and how it is already benefiting their community. The latest city to have a dedicated computer with Stealth Monitoring's technology in their dispatch center is Dallas. "I'm really excited about this opportunity for us," said Dallas Deputy Chief Daniel Garcia.
Stealth Monitoring currently watches hundreds of businesses in Dallas proactively looking for anything unusual around the premises of the business. Stealth notices trespassers often before they break glass, cut through fence lines, or start to damage the property. Now Stealth Monitoring can send that live video data potentially before any event, alarm, or criminal activity has occurred directly to the dispatch center. This valuable video data is communicated by the dispatch team of the police department directly to the responding officers who will eventually be able to pull up the live video themselves from PDA's. "It gives us the ability to go out and decide if we want to send someone out on suspicious behavior before the crime occurs," said Addison Police Chief Ron Davis.
Addison was the first city to implement the technology and many other North Texas cities are interested and contracting with Stealth for similar services, at no expense to the department or taxpayers. Police Chief Davis knows the real-time surveillance monitoring technology that Stealth offers "will be the way that camera monitoring is done in the future." City of Dallas and Irving have thousands of businesses, many exposed to significant crimes or expensive physical guard services. Stealth has already reduced crime and deterred unwanted activity across different commercial industries throughout North America and now is able to strengthen their relationships with local police departments.
Responding Police Departments have the ability to communicate with Stealth and see the live video themselves to determine how many suspects are involved, whether they are carrying weapons, where the suspects might be hiding, and much more pertinent information. Police Chief Davis said, "many times the criminal is leaving the crime scene in an identifiable vehicle and responding officers have no idea as they are still on the way to the scene, but now with live video data, that information can be shared and lead to more arrests." City of Irving Police Captain John Thorpe explained, "we can see what Stealth can see" and Norm Charney, chief executive of Stealth Monitoring replied, "the clients have paid us to live monitor them so we have access to all this crime and video data, so therefore we decided to filter that information and share suspicious activity with the police." Irving Police Captain John Thorpe agreed, "the partnership with Stealth and the police department will be a big benefit to officer safety."
Stealth Monitoring customizes other functions for commercial businesses by activating speakers, connecting to access control, releasing door contacts, turning on/off lights, opening/closing gates, virtual escort services, and more. With today's internet network technology, the opportunities are endless. Stealth encourages businesses to share their history of problems and needs so that Stealth can help design a solution. If you want more information, contact Stealth to learn more about this free technology that can improve the safety and security of your community.
Contact Norm Charney or Rick Charney at 214-341-0123 or visit http://www.stealthmonitoring.com.
###