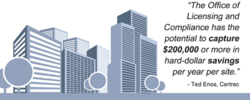 CERTREC's RegSource has been an improvement for us. Licensing and compliance information is available almost instantly. This compliance information is being used at the highest levels for both tactical and strategic issues.
– MD, Licensing Mgr.
Ft. Worth, TX (PRWEB) June 23, 2011
Certrec, a leading regulatory licensing and compliance solutions provider, is pleased to announce that its RegSource compliance solution is providing both tactical and strategic support for a leading generation operator.
With facilities across 26 states and Canada, this generator was facing several licensing and compliance challenges within nuclear power operations.
Keeping up with changes in NRC positions, while facing staff and budget restrictions, was a problem. Aligning compliance practices across the fleet proved challenging. Finding critical NRC documents quickly and doing thorough licensing research in an efficient manner was difficult.
For a market leader that strives for excellence in nuclear fleet operations, these needs were critical in a constantly changing regulatory environment.
To address these challenges, this leading generation operator chose RegSource, a web-based licensing and compliance suite from CERTREC that offers daily notification of NRC activities, the Federal Register, industry issues, and alerts. With the industry's largest, online repository of regulatory information (100 GB) with full-text search capability, the multi-state operations staff could quickly and easily retrieve critical documents on their iPads and iPhones. RegSource's inspection management tools and research tools helped manage licensing activities in real time.
"CERTREC's RegSource suite has been a real improvement for us, not only at the working level, but at the management level as well. With RegSource, licensing and compliance information is available almost instantly – allowing for timely assessment of regulatory issues and industry trends. I had a high-level individual tell me the other day that he had been out for over a week and was able to get up to speed in a very short time by reviewing the RegSource updates. This compliance information is being used at the highest levels in the organization and helping us to provide direction for both tactical and strategic issues." – MD, Licensing Manager
The Office of Licensing and Compliance
RegSource is part of CERTREC's Office of Licensing and Compliance (OLC) – a suite of tools that help compliance professionals manage the licensing and compliance process to their advantage. "Combining daily notification of important NRC actions, an online document library, inspection management and compliance tools, Licensing Basis management, RegSource is an all-in-one, single-source, get the job done, NRC toolbox, says Ted Enos, President of Certrec.
CERTREC
Founded in 1988, CERTREC is a regulatory and compliance solutions provider that helps utilities manage the NRC, FERC, and NERC regulatory process to their advantage. With more than 250 cumulative years of regulatory and industry experience, Certrec's licensing and compliance solutions, performance improvement, and technical services solutions help professionals better manage the risks of the regulatory and compliance process.
# # #