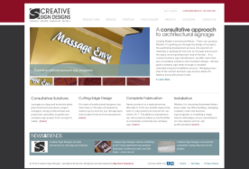 Jaime Harden, President and CEO of Creative Sign Designs noted, "Driving content through our media, media newsletters, press releases – and now our website blog – is a critical part of our marketing and branding strategy.
Tampa, FL (PRWEB) June 24, 2011
Tampa Web design firm Bayshore Solutions partnered with Creative Sign Designs last year for a completely different look and feel for their website implementing a creative Web design showcasing fabulous photography in the photo gallery and portfolio sections as well as Bayshore Solutions' WebModules content management system. The newest addition to the website project is the announcement of an integrated blog to further the architectural sign company's social media and search engine optimization strategy for 2011.
Creative Sign Designs is heavily invested in embracing social media for their company and currently have Twitter, Facebook, YouTube, LinkedIn and Flickr accounts and most recently a blog to add to their social media strategy. Bayshore Solutions' expertise in blog management allowed for a seamless integration into their existing website design.
Giving employees a chance to be a part of this exciting endeavor of the launch of their blog, the employees have opportunity to write articles and share about recent projects, leadership thoughts, design ideas, fabrication methods, installation processes, techniques and what is happening at their company.
Jaime Harden, president and CEO of Creative Sign Designs noted, "Driving content through our media, media newsletters, press releases – and now our website blog – is a critical part of our marketing and branding strategy. We committed to a blog posting at least two times every month. We hope to make our postings informative and fun. We are using this as an opportunity to get our entire company involved."
Since starting their Internet strategy initiative, Creative Sign Designs with consulting from Bayshore Solutions, has implemented various ways to increase content for their website and have seen terrific results. In the first four months there was a 325% increase in leads and 131% increase in visitors. In 10 months visits have increased even more as search results, form fills and leads continue to increase. The launch of their new website has created a stir as Creative Sign Designs President and CEO Jamie Harden was a featured panelist at the recent 2011 AMA Tampa Bay and Bayshore Solutions Tampa social media event, "Bing It On," in Tampa, Fla., sharing successes on Web marketing tactics. Featured on FOX 13, Tampa Bay Business Journal, Sign Builder Illustrated, Sign of the Times industry magazine and more, the leading architectural sign company continues to receive accolades, most recently recognized for a Horizon Interactive and Interactive Media Award for their recent Web design engineered with Bayshore Solutions.
Creative Sign Designs is a large Florida based architectural sign company that was founded in 1986. This company is a nationally recognized leader in the design, fabrication and installation of interior and exterior architectural signage. With their headquarters in Tampa, Florida, this sign design company has the capacity and capability to execute extensive projects on a fast-track basis, offering the unparalleled combination of processes and materials to meet their client's needs.
With over a quarter century of experience in the architectural sign industry, Creative Sign Designs has the know-how to successfully complete projects for clients in almost any industry, anywhere. Now, with the help of Bayshore Solutions' expertise they have the custom-designed, innovative website to match their unsurpassed sign design experience. For more information on Creative Sign Designs visit them on the Web at http://www.CreativeSignDesigns.com or e-mail them at info@creativesigndesigns.com.
About Bayshore Solutions
Headquartered in Tampa, Web design firm Bayshore Solutions offers award-winning capabilities in Web development, Internet marketing and Web Hosting. Bayshore Solutions has delivered custom Web applications and services to over 1,500 clients in 54 countries with physical offices accessible to Tampa, Orlando, Miami, Fort Lauderdale, Dade County, and Broward County in Florida. For more information visit the Tampa Web design firm at http://www.BayshoreSolutions.com
Follow the Tampa Social media and development firm on Twitter @BayshoreWebPros or subscribe to the YouTube Channel for the latest industry updates and Internet marketing tips and strategies. For an inside view on the latest at Bayshore Solutions and to take part in interactive polls, news, featured websites make sure to like us on Facebook.
###