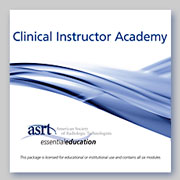 "This program will help new educators become more effective teachers and mentors."
Albuquerque, NM (PRWEB) June 23, 2011
Radiologic technologists who are tasked with teaching students about clinical processes and procedures face unique challenges as they transition from their roles as clinicians to clinical instructors. To address this, the American Society of Radiologic Technologists has developed the Clinical Instructor Academy, a comprehensive tool that will help R.T.s learn the core strategies and tactics they need to be successful educators in the workplace.
Comprised of six modules, the Clinical Instructor Academy is designed to engage participants in the learning process so aspiring clinical instructors can gain the expertise, insight and confidence they need to succeed in the role.
"Radiologic technologists often find themselves being tasked with the role of clinical instructor, but aren't necessarily prepared to excel in an educational position," said Myke Kudlas, M.Ed., R.T.(R)(QM), ASRT's chief academic officer. "This program will help new educators become more effective teachers and mentors."
Each module is facilitated by a panel of five veteran radiologic science clinical instructors who discuss topics ranging from education and training to performance assessment and record keeping. Participants can listen to informative panel discussions, get helpful advice from working instructors and view practical video vignettes that provide key insights about the position.
According to Mr. Kudlas, individuals who complete the modules will have a better idea of what to expect when they starting working as clinical instructors. "New clinical instructors will learn to adapt to different learning styles, develop new teaching methods, improve their assessment skills and effectively use feedback to mentor students."
The Clinical Instructor Academy features the following modules:

Transitioning From Staff Technologist to Clinical Instructor.
Are We Participating in Education or Training?
The Clinical Instructor as Facilitator of Learning.
Assessment of Clinical Performance.
Remediation: An Art and Science.
Record Keeping, Confidentiality and Legal Responsibilities.
Individuals will earn at least 1 Category A continuing education credit for each module and 8 CE credits if they complete the entire series.
The ASRT also offers a non-CE credit institutional version for educators, program directors and managers who would like to use the Clinical Instructor Academy as an educational tool in the workplace or classroom.
Kevin Powers, Ed.D., R.T.(R)(M), ASRT's director of education and a primary content developer for the Clinical Instructor Academy, said the tool is relevant to all medical professionals. "Even though the content was written with radiologic technologists as the key audience, this is a multi-faceted resource and the concepts and strategies presented in the modules are applicable to medical professionals in any clinical leadership position."
For more information about the ASRT and the radiologic science profession, visit http://www.asrt.org.
About ASRT
The ASRT represents 141,000 members who perform medical imaging procedures or plan and deliver radiation therapy. The Society is the largest radiologic science association in the world. Its mission is to advance the medical imaging and radiation therapy profession and to enhance the quality of patient care.
###