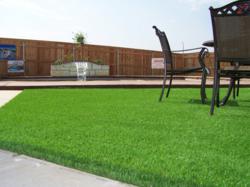 SGW is honored to donate our materials to an individual that was willing to sacrifice his life for our country. If we can give back and make even a small difference in accommodating him and his family, we are proud to do so" - Victor Lanfranco
Lubbock, TX (PRWEB) June 28, 2011
Top global artificial grass distributor, Synthetic Grass Warehouse, donated 735 square feet of artificial turf to remodel a Wounded Warrior home in Lubbock, Texas. Turf from Synthetic Grass Warehouse's Yosemite Light product line, as well as additional accessories, were donated in order to create a beautiful and low maintenance backyard for the injured soldier. In addition to Synthetic Grass Warehouse's donation, contractors from the Lubbock area combined their time, resources, materials, and labor to create a new and improved home for a severely injured serviceman that recently came home from Afghanistan. The entire house was built from scratch to accommodate the new needs of the serviceman and his family.
The installation was carried out by Drake Lawn Sprinkler, and the new yard comes with a complete outdoor dinette. The turf was installed will not require mowing or watering, which supports the Wounded Warrior cause in building low maintenance, highly accessible homes for our soldiers.
Synthetic Grass Warehouse co-founder Victor Lanfranco explains, "SGW is honored to donate our materials to an individual that was willing to sacrifice his life for our country. If we can give back and make even a small difference in accommodating him and his family, we are proud to do so," he says.
About SGW: Synthetic Grass Warehouse has been the leading global distributor of synthetic grass for 7 years. Located in Anaheim, California, it serves surrounding states, the rest of the US, and the rest of the globe. With over 13 different products, including 3 different products designed for putting green, Synthetic Grass Warehouse offers a wide range of artificial grass products for different uses.
###