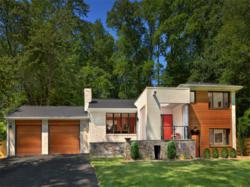 To win the Chrysalis Award... is such an incredible honor, especially considering the caliber of competition and judging panel
Chevy Chase, MD (PRWEB) June 24, 2011
Wentworth Inc., a fine home remodeling company in Maryland, recently won the National Chrysalis Award in the "Residential Exterior over $100,000" category. The award was given to Wentworth Inc. for the transformation of a Silver Spring home's façade.
The project scope centered on the conversion of a 1960's split-foyer entry into a distinguished, modern residential façade with a newly remodeled entry and two-car garage. The Wentworth Inc. design/build team sought to create a design that was both functional and completely unique in comparison to residences in the surrounding neighborhood. "This project is deeply rooted in our design philosophy at Wentworth. Working with the homeowners to create an updated, modern facade was rewarding in and of itself. Then, to win the Chrysalis Award on top of it is such an incredible honor, especially considering the caliber of competition and judging panel. We are incredibly proud of this project and the award," says Bruce Wentworth, AIA.
The Washington, DC area fine remodeling company has won several other distinguished awards for their design/build projects, bath and master suite renovations, façade updates, home additions, and reconfigured spaces. The Silver Spring remodeling project also took home the Grand Prize in the 2010 National Association of the Remodeling Industry (NARI) CotY Awards.
More information can be found on the http://www.wentworthstudio.com site, which includes an explanation of the company's services, vision, and an interactive DC area home remodeling blog. An extensive project portfolio containing images of remodeling, interior design, and home renovation projects in Maryland, Northern Virginia and Washington, DC is also included on the site.
About Wentworth Inc:
Wentworth, Inc., a fine home remodeling company in Chevy Chase, MD, is a unique collaboration of architects, designers and craftsmen who integrate architecture, interiors, and construction to create award-winning homes with timeless livability. Based on twenty-five years of design-build experience, Bruce Wentworth, AIA, a noted architect with a passion for residential remodeling and historical architectural styles, founded Wentworth, Inc. in 2004. Wentworth, Inc. believes that livability and beauty is essential to every design endeavor. This belief has been instrumental in some of the Washington, DC metro area's most recognized home renovations.
###