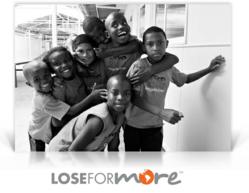 To participate in the Lose for MORE Challenge, MonaVie distributors or preferred customers can sign up anytime between now and July 1.
Salt Lake City, UT (PRWEB) June 23, 2011
MonaVie, a global leader in premium nutrition products, recently announced the launch of its Lose for MORE Group Challenge, offering MonaVie distributors and preferred customers the chance to win $10,000, while benefiting a great cause.
Teams must consist of at least three people who will compete against other teams to lose the highest overall percentage of weight during the 12-week Lose for MORE Group Challenge, which begins July 1. In addition, each team member pledges to donate a dollar for every pound he or she loses to The MORE Project, MonaVie's non-profit foundation that provides sustainable programs and other essential support to Brazil's most impoverished children and families.
"To further motivate the teams," said Jeff Graham, MonaVie president of North America sales, "MonaVie will match these pledges, dollar for dollar." The winning team with the highest overall percentage of weight loss will receive $10,000 (distributed among the team), and the winners will be announced at the conclusion of the competition in October 2011. "To up the ante," said Graham, "MonaVie corporate will sponsor a home tasting party for the winners and supply the necessary product and sales tools, as well as a special guest from corporate."
"The Lose for MORE Challenge is more than just a promotion for MonaVie distributors and preferred customers," continues Graham. "This challenge is about helping people take control of their lives on two levels. First, the teams competing will gain control and freedom through improved health and lifestyle. Second, the people in Brazil will gain control of their destiny as we contribute funds to extend the programming that is helping free them from a cycle of poverty and hopelessness. This is another innovative way that MonaVie is creating opportunities to help others gain a more meaningful life."
To participate, MonaVie distributors or preferred customers can sign up anytime between now and July 1. The 12-week period begins on the day of signup. Once each team member has signed up individually, a team captain must be designated and he or she must complete the Team Form to ensure team enrollment. All team members are required to purchase and use the MonaVie RVL™ Premier Weight Solution during the challenge.
About The MORE Project
The MORE Project seeks to change lives and restore families living in poverty in Brazil. The MORE Project adheres to a philosophy of love and compassion to support those whom society has left behind. We focus on providing individuals with skills, resources and support so they can free themselves and their families forever from the cycle of poverty and begin new lives filled with hope, health and dignity. The name of our project, "MORE," reflects our vision and commitment to continuously do more to end the suffering of those in need in Brazil. Further, we are committed to loving, supporting and educating more individuals so they can do more with their own lives. We do this by providing critical resources, such as nutritious food and safe shelter to end their suffering, and loving support and educational training to help them and their families create a thriving future.
To learn more about The MORE Project, please visit their website at http://www.themoreproject.org.
About MonaVie
MonaVie is a leading network marketing company that sells premium nutrition products in 17 countries around the world. Launched in 2005, MonaVie became one of the fastest-growing companies in history. In 2009, the Inc. 500 listed MonaVie as the No. 1 fastest-growing private company in the Food & Beverage category, and Ernst & Young named Dallin Larsen, MonaVie's founder and CEO, Entrepreneur of the Year. MonaVie's product portfolio includes a line of functional beverages, a healthy energy drink, and a healthy weight management system. Learn more about MonaVie at http://www.monavie.com. Become a fan of MonaVie on Facebook (http://www.facebook.com/MonaVie) or follow MonaVie on Twitter (http://twitter.com/monavie).
# # #