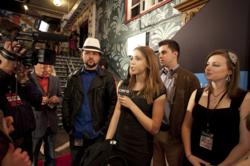 "As we began planning this year's CMF International Grand Finale, we knew we'd have to make this tenth anniversary a weekend that our filmmakers will never forget," said David Roemer, Co-founder of Campus MovieFest.
Hollywood, CA (PRWEB) June 24, 2011
Campus MovieFest is hosting the International Grand Finale, star studded red carpet awards ceremony Saturday, June 25, at the Steven J. Ross Theater, Warner Bros. lot.
WHO: Campus MovieFest, the world's largest student film festival presents
WHAT: The 2011 Campus MovieFest International Grand Finale Red Carpet Awards Ceremony
WHEN: Saturday, June 25, 2011 – 7:00pm – 10:00pm
WHERE: The Steven J. Ross Theater on the Warner Bros. Studios lot
WHY: The Campus MovieFest (CMF) 2011 International Grand Finale (IGF) will honor student filmmakers from 75 universities and colleges as part of the 2011 Campus MovieFest World Tour. CMF is also recognizing and awarding the following special category finalists: CMF 3D in partnership with the International 3D Society (I3DS) and Panasonic, Elfenworks Social Justice in partnership with The Elfenworks Foundation, and the Rethink Possible Award.
HOW: CMF will host a variety of events beginning Thursday, June 23 through Sunday, June 26, which include: workshops with celebrities and industry luminaries, screenings of 200 student shorts, advance screenings of Cars 2 (Disney/Pixar) and Horrible Bosses (Warner Bros.), College Battle of the Bands concert, and a red carpet awards ceremony with special guests announcing the 2011 winners.
Industry presenters participating include:

Gabourey Sidibe (Precious, The Big C)
Geoffrey Arend (Garden State, 500 Days of Summer)
Wes Bentley (American Beauty, Ghost Rider)
McG (director, Charlie's Angels, We Are Marshall)
Melissa Rosenberg (writer, Twilight, Dexter)
Chris Markus and Stephen McFeely (writers, The Chronicles of Narnia, Captain America)
Todd Strauss-Schulson (director, A Very Harold & Kumar Christmas)
And more to be announced
NOTES: Interview opportunities with Campus MovieFest execs, partners, student filmmakers and 2011 winners. To schedule interviews, please contact Diane Payes at diane(at)campusmoviefest(dot)com.
Photo opportunities at select workshops and College Battle of the Bands concert on Friday, June 24, and the Campus MovieFest red carpet ceremony on Saturday, June 25 between 7-8pm.
Please contact media(at)campusmoviefest(dot)com to receive media badges for select events. Badges are limited and requests must be submitted by Saturday, June 25th, Noon PDT.
For more information please visit the IGF Press Room at http://www.campusmoviefest.com/igf/press
SCHEDULE OF EVENTS THAT ARE OPEN TO REGISTERED MEDIA:
THURSDAY JUNE 23
5:00p Welcome Event at Sheraton Universal Starview Room

Badge Pickup
Filmmaker Resume and Reels drop off
3D Movie Screenings
11:00p Distinguished Filmmakers Network Mixer at In-the-Mix (Sheraton Universal Lobby)
FRIDAY JUNE 24
9:00a Badge Pickup continues at Info Desk in Lobby
10:00a-5:00p Industry Workshops at Sheraton Universal
10:00a-4:00p I3DS hosts 3D University with 3D workshops at Panasonic Hollywood Lab
6:30-7:30p Photos and interviews w/ College Battle of the Bands finalists
8:30p College Battle of the Bands Finale at the Echo (1822 W Sunset Blvd)
SATURDAY JUNE 25
10:15a-12:15p Festival Screenings -Morning – Universal Studios lot – Screening Rooms 1-3
1:00p-4:00p Festival Screenings - Afternoon – Universal Studios lot – Screening Rooms 1-3
7:00p-8:00p Red Carpet photo and interview opportunities, champagne reception
8:00p-10:00p IGF Awards Ceremony (Limited seating)
SUNDAY JUNE 26
11:00a-12:00p Winner's Brunch at poolside patio – Sheraton Universal (Invite only)
###