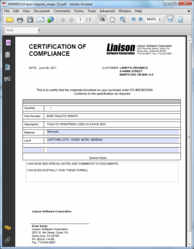 Santa Ana, CA (PRWEB) June 24, 2011
Liaison Software Corporation has announced the general release of Liaison Messenger® i-PDF. Dynamically produce and distribute form-fill Interactive-PDF forms and reports directly from your favorite reporting tool like; SQL Reporting Services (SSRS), Crystal Reports, or even proprietary reporting tools like those found in Microsoft Dynamics GP and AX.
Existing forms, reports, or ad-hoc reports can now be dynamically produced and distributed as a Hybrid Document containing report writer data and form-fill fields for manual data collection. Great for time sheets, employee forms, material handling travelers, budget reports, etc…
You can even extract user-saved data and have Messenger i-PDF write its contents to a SQL table you associate to the i-PDF documents.
Liaison Messenger i-PDF fills the void of automated forms and reports requiring manually entered data. Create a library of Hybrid Documents that blend system data and editable form-fill fields. Standard Adobe Acrobat end-user "form-fill" capabilities are required for saving.
Since 2000, the Liaison Messenger product line has provided thousands of users running Microsoft Dynamics GP and SL, Sage Software's PFW and MAS90 the capability to e-mail, fax, route and archive everyday forms and reports through their internal and external software extensions.
About Liaison Software Corporation
Founded in 1993, Liaison Software Corporation is a privately held company developing innovative software solutions which centers on Workflow Automation and Electronic Document Delivery applications for ERP, Accounting and general business systems and documents.
Liaison Software Corporation is online at http://www.liaisonsc.com.
Liaison Messenger and Messenger are registered trademarks of Liaison Software Corporation in the United States and Canada. Liaison Software Corporation, its logos and all derivatives of the Liaison Messenger product or service names are trademarks or registered trademarks of Liaison Software Corporation. All other trademarks or service marks are property of their respective owners.
# # #