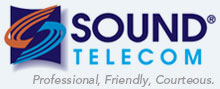 24/7 and 365 days a year Chicago call center

Chicago, IL (PRWEB) June 24, 2011
Providing answering service for a major part of the United States is just one reason why Sound Telecom has become one of the industry leaders in business solutions. Taking into consideration charitable giving and awards for excellence in service over the years, this company has truly become a strong competitor in today's marketplace. With the new Chicago branch opening its doors they are giving businesses in the Windy City a new competitive advantage.
The ability to innovate and further create business solutions from day to day has become a defining factor in survival for a lot of companies. Sound Telecom Chicago has just the solution to take pressure off the daily grind. With their 24/7 and 365 days a year Chicago call center, there is no reason to worry about customers being able to speak to a professional, knowledgeable person at any given time on any single day of the year. Chicago has the ability to satisfy customer needs all the time and now they don't have to worry about poor service with Sound Telecom, they have friendly well-formed individuals standing by at all times.
With the capabilities of Sound Telecom coming to Chicago area, businesses have new strengths to satisfy customer's constant needs, even late at night. With the introduction of this service, any business can focus on strong competitive strategies without and can feel comfortable outsourcing much of their answering service in Chicago needs. Businesses are always looking for ways to run leaner and stronger without sacrificing the competitive advantage they hold on their industry, using Sound Telecom Chicago answering service is one way to do just that.
###