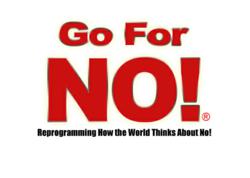 Orlando, FL (PRWEB) June 25, 2011
Think you're going to work really hard, put in extra hours, take on hard projects, and get rewarded? Not quite, according to Mika Brzezinski, the co-host of MSNBC's "Morning Joe." As Brzezinski suggests, you'd better be prepared to know your value, communicate it, and do the thing that seems to be the toughest part for many women: promote yourself!
According to Richard Fenton and Andrea Waltz, the authors of the best-selling book, Go for No! Yes is the Destination, No is How You Get There, the idea of asking for a raise or a promotion is a huge issue for women, and for a lot of men as well. "People are afraid of failure, they are afraid of rejection, and they are afraid of hearing no," says Waltz. In their book, Fenton and Waltz teach people that in order to reach the level of success they want, they must be willing to hear a lot of 'No's along the way.
Fenton explains, "Most people do everything within their power to avoid hearing no, a recipe that ensures average results. You may avoid the experience of failure, but you are no closer to getting what you want." Waltz adds: "As Mika points out in her book, she felt she would be recognized for her accomplishments, but did not step up and ask for what she wanted in an assertive way. Women need to understand that they need to start asking more and be willing to accept failures along the path to achieving what they feel they deserve."
It is a simple lesson, yet one which many people have yet to learn. According to Fenton and Waltz, their website tagline explains it best: "We believe that you can achieve virtually anything you want if you are just willing to hear 'no' often enough." And that's why they applaud Brzezinski's new book - it's one more way for women to learn this powerful lesson.
###