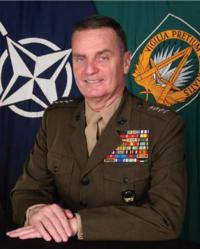 Colorado Springs, CO (PRWEB) June 24, 2011
Gen. James L. Jones, USMC (Ret.), the former National Security Advisor to President Obama, will be the keynote speaker at the 2011 NATIONAL SYMPOSIUM on Homeland Security and Defense™.
Jones was appointed National Security Advisor to the president in early 2009, serving in that role until October 2010. In a 40-year military career, Jones served in Vietnam, the Persian Gulf War, and in the Balkans before wrapping up as NATO's supreme commander.
He served as commandant of the Marine Corps from July 1999 to January 2003. His experience also includes serving as the State Department's Special Envoy for Middle East Regional Security. He worked with Israeli and Palestinian officials in furthering the peace process, focused on the full range of security issues in order to strengthen security for both sides.
This year's Homeland Security and Defense symposium is scheduled Oct. 31-Nov. 2 at the Broadmoor Hotel in Colorado Springs, Colo. The keynote from Jones will be delivered on opening day of the symposium.
The event will include presentations on:

The effect of shifting borders on U.S. security and commerce;
Security and defense of the Arctic;
The dynamic nature of counter-terrorism and force protection.
About the National Homeland Defense Foundation:
NHDF was established in 2004 as a non-partisan, nonprofit forum and rallying point for our country's response to the ever-eminent presence of terrorism tactics, and preparing and responding to natural disasters around the country. The foundation conducts several programs throughout the year designed to provide services to our constituents as part of our effort to achieve our mission.
The NATIONAL SYMPOSIUM on Homeland Security and Defense is a public forum where leaders from various sectors of our society can come together to share information, ideas and plans focused on securing our nation and our liberty.
###