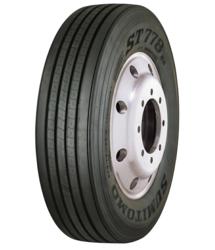 "We are proud to support these important goals," said Purol. "TBC is committed to adding value to its customers by providing innovative and quality products."


Palm Beach Gardens , FL (PRWEB) June 24, 2011
TBC Wholesale Group announced today that three of its Sumitomo brand truck tires have received the U.S. Environmental Protection Agency's (EPA) "SmartWay" verification and have been added to the SmartWay Transport Partnership list of verified low-rolling resistance tires*.
The Sumitomo ST778SE Steer Radial, ST710SE Trailer Radial and ST938SE Drive Axle Radial all received the SmartWay Partner designation for utilizing low-rolling resistance technologies to provide fuel saving and emission reduction benefits; potentially reducing total fuel cost for owner-operator and fleets.
"Three very good truck tires have been made even better with the incorporation of low-rolling resistance technology," said Richard Purol, vice president of Marketing, TBC Wholesale. "SmartWay verified technologies not only protect the environment, they save fleets money by reducing fuel expense. We are proud to support these important goals." Purol went on to highlight TBC's commitment to adding value to its customers by providing innovative and quality products.
The ST778SE and ST710SE are currently available, with the ST938SE availability targeted for the 4th quarter of this year.
SmartWaySM classifies Partners as entities that commit to and achieve real emission reductions and fuel savings. For more information about the SmartWay program visit
http://www.epa.gov/smartway/transport/what-smartway/verified-technologies.htm
*Verified Low Rolling Resistance Tires
Based upon data provided by tire manufacturers and EPA testing and research, EPA determined that certain tire models can provide a reduction in NOx emissions and an estimated fuel savings of 3% or greater, relative to the "best selling" new tires for line haul trucks, when used on all five axles on long haul class 8 trucks. The options offered include both dual tires and single wide tires (single wide tires replace the double tire on each end of a drive or trailer axle, in effect turning an "18" wheeler into a "10" wheeler). Low rolling resistance tires can be used with lower-weight aluminum wheels to further improve fuel savings.
ABOUT TBC WHOLESALE GROUP
The TBC Corporation's ("TBC") Wholesale Group is one of the world's largest marketers of private brand tires. Its representing thirteen powerful tire brands are well known and respected throughout the industry. TBC Corporation (TBC) is one of the nation's largest marketers of automotive replacement tires through a multi-channel strategy. TBC is headquartered in Palm Beach Gardens, Florida.
The TBC Wholesale Group consists of TBC Brands, Treadways, Carroll Tire Company, TBC International, TBC Latin America, and TBC de Mexico. Each entity is a wholesale supplier to independent regional tire retailers and distributors throughout the U.S., Canada, Mexico, Central and South America, Europe and the Middle East. Additionally, TBC's Retail Group operates more than 800 tire and automotive service centers under the brands Tire Kingdom®, Merchant's Tire & Auto Centers®, NTB-National Tire & Battery® and Big O Tires as well as over 400 franchised stores under the Big O Tires® brand.
Sumitomo is a registered trademark of Sumitomo Rubber Industries.
###